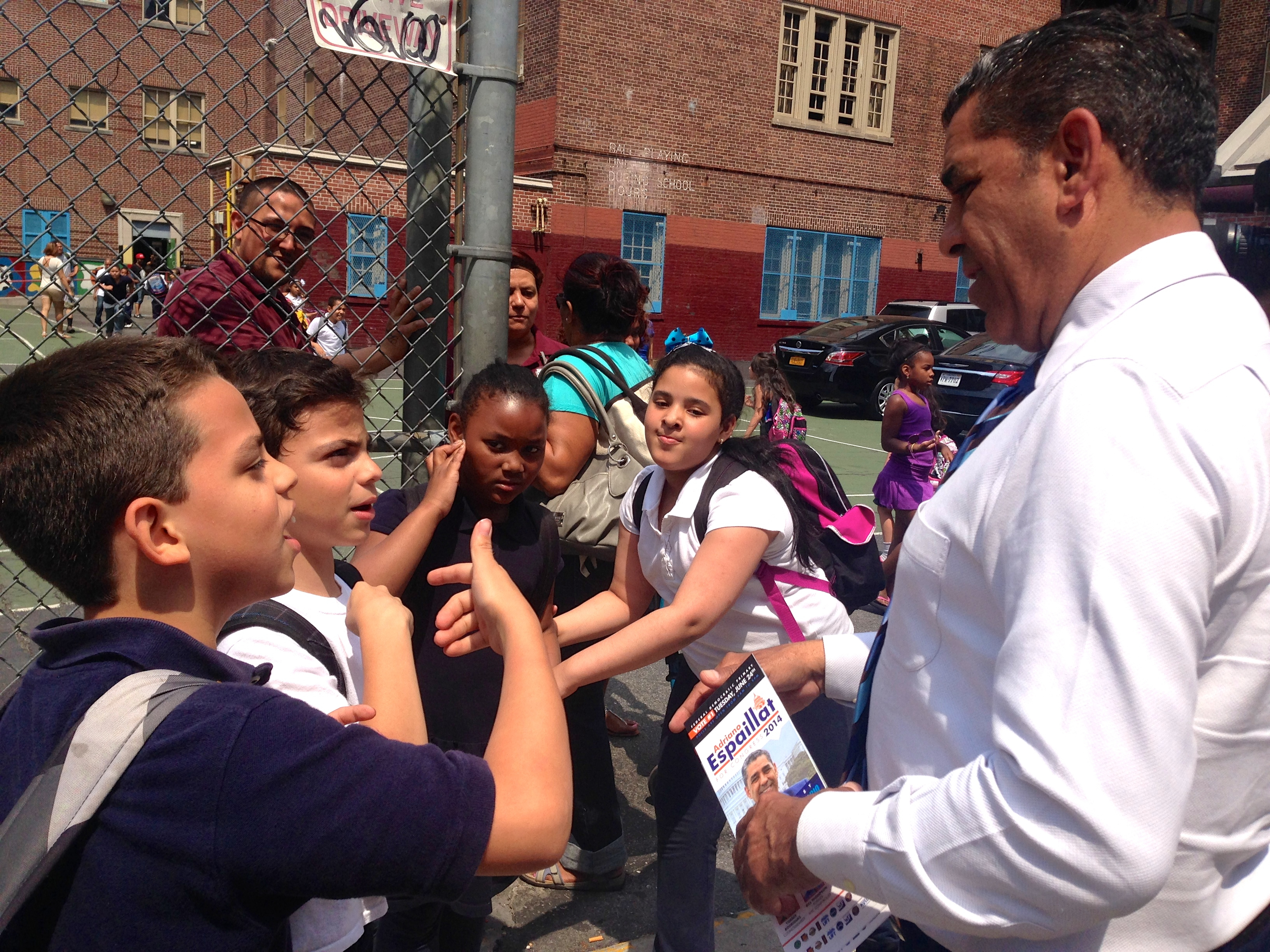 Since February, when State Senator Adriano Espaillat announced his bid to replace Charlie Rangel in Congress, he has lost 15 pounds and worn out three pairs of shoes. He has not, however, lost his stamina. On the last day on the road of what he hopes will be a historic campaign, Mr. Espaillat undertook the ambitious goal of zigzagging through the entire district.
Mr. Espaillat started bright and early at the northwestern corner of the district in the Bronx, where he paid a visit to a Jewish Senior Center. While there, Lucy Degidon, a 72-year-old artist, asked him, " Why should we vote for you over Congressman Rangel?"
Mr. Espaillat, who was joined by Assemblyman Jeffrey Dinowitz, replied: "For two years, you don't have a presence here, you don't even have a district office," and added, "On day one what I can promise you is that I will have a district office right here in the Bronx."
He also had some discreet bone-picking to do with his rival, Mr. Rangel.
"In addition to that, these cuts coming from Washington are just hurting all these programs, including these very fine arts programs. So public housing is being cut. I won't vote to protect Wall Street as opposed to local community groups," Mr. Espaillat said.
Was Ms. Degidon convinced? "I would seriously consider him because of what he just said, that he would have an office here" she told the Observer. "I don't think we are really represented because Rangel never comes around and he doesn't have an office here."
Then, she said she had made up her mind to go with Mr. Espaillat.
"I was thinking of voting for Rangel but now I'm seriously voting for Espaillat, even though I'm kind of worried because he won't have seniority" Ms. Degidon added.
Outside the senior center, however, the campaign's energy did not sway everybody. Daniel Rivera, a 36-year-old publicist who lives in Kingsbridge Heights, told the Observer, "I'm not satisfied with either candidate. I don't see much improvement from either. Rangel, yes, he's been in charge for what, 80 years. I think time is for a change but I am just not sold on Espaillat, I just don't know what he brings to the table."
The next pit stop was the nearby Mosholu Montefiore Community Center. Outside, he greeted the young, the old and the locals, many of whom wanted to take a picture with him.
"He impressed me with his firm grip… He looked like a neighborhood guy that made good. If he does get elected I hope he does good for the area," said Carl Pavia, a senior passing by.
Michael Elliot, the husband of a beauty parlor owner, was also sympathetic to Mr. Espaillat. "Most of the girls that work here are Dominican, he's Dominican and we are looking for someone like him to be in office right now to help the people from this area," she said, adding, "Charlie Rangel has really done nothing for us, really, nothing at all."
And then it was down to PS 189 on 189th street and Amsterdam Avenue for a meet-and-greet with parents picking up their children. While addressing the press, Mr. Espaillat, who had taken off his blue jacket due to rising temperatures, confessed something he had never said before — and that, coincidentally, reinforced his lack of confidence in the latest polls.
"I was polled, I was polled on Saturday, last Saturday" he said to reporters. "I was polled and I began to speak in Spanish, as I am fully bilingual, and the person couldn't understand what I was saying and then that person had to go back to English and I completed the poll," Mr. Espaillat confided. "The most important poll is the vote of the constituents, that's the poll that counts" he remarked.
Parents and passers by received him warmly. Ramon, a hot dog vendor from the Dominican Republic who had an Espaillat sticker on his cart, told the Observer, "He is a serious man, he gets my vote. Although both of them are serious, he gets my vote."
Bienvenida Perez, a cafeteria worker, had her own reservations but ultimately told the Observer she would vote for Mr. Espaillat. "We want him to work for the poor," she said, but was careful to add some common wisdom. "Politicians promise a lot and when they are in office they forget about the poor."
Mr. Espaillat's last stop will be the "Lucky Corner" on 116th Street and Lenox Avenue this afternoon. Speaker Melissa Mark-Viverito will join him in a final attempt to woo East Harlem voters, who decided the election last time in favor of Mr. Rangel.
Mr. Espaillat plans to run a 48-hour sprint with no sleep until the results of the hotly contested primary race are in. When pressed by reporters if he had kept in touch with Mr. Rangel, Mr. Espaillat sneered confidently.
"I expect a call from him when he concedes tomorrow night".