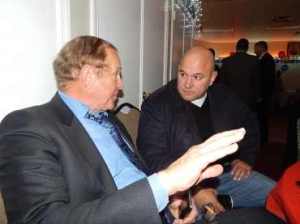 In a weird behind the woodshed moment, state Sen. Ray Lesniak (D-20) took his super PAC into Bayonne and played a key role in funding the Jimmy Davis insurgency against incumbent Mayor Mark Smith.
Signalling that past transgressions might have been forgiven, Lesniak was even present at Smith's kickoff, along with his colleague from LD20, Assemblyman Joe Cryan (D-20).
Then Smith revealed weakness by failing to get to 50%plus 1 in the May 13th election and Lesniak's PAC, the Committee for Economic Growth and Social Justice, emerged in support of Team Davis in the runoff.
What's odd about Lesniak's move is that he made it against one of Cryan's closest political allies in Smith, and Cryan's own political acolyte and legislative pal in Assemblyman Jason O'Donnell (D-31).
But it wasn't the first time Lesniak took on and messed with O'Donnell.
When last year's Democratic nominee for Governor, Barbara Buono, chose O'Donnell as her state party chair, Lesniak opposed him, going so far as to declare his own candidacy for the chairmanship until the party powers derailed O'Donnell in place of compromise candidate John Currie.
Tonight, Lesniak again helped derail O'Donnell as he simultaneously dismantled two of Cryan's staunchest allies.