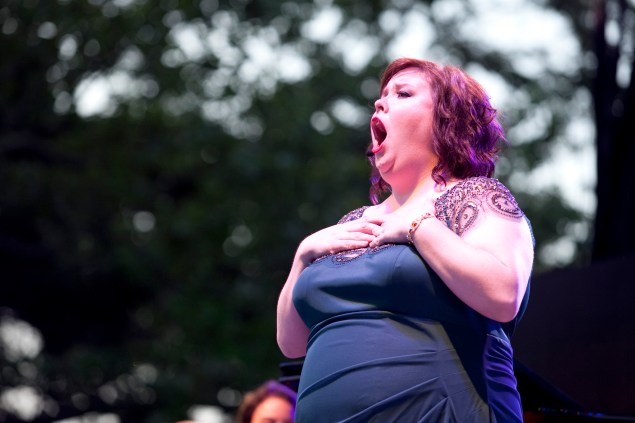 On Monday night, opera, which lately has seemed plain and puny, turned grand again.
The occasion wasn't a lavishly staged opus of Wagner or Verdi with full orchestra and chorus; rather, this installment of the Metropolitan Opera Summer Recital Series, at Central Park SummerStage, featured just three singers in evening dress, accompanied by piano. But the richness of their voices and the sweep of their interpretations added up to sheer grandeur.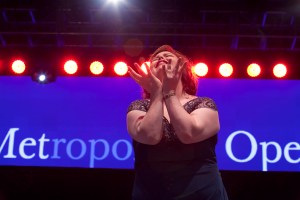 Now, "grand" can mean "opulent" or "magnificent," which this concert's singers certainly were. But it can also mean "large," which these artists—soprano Amber Wagner, mezzo Jamie Barton and tenor Russell Thomas—are as well. If their voluptuous voices evoked the golden age of the late 19th century, so did their physiques, which recalled engravings in a century-old edition of The Victor Book of the Opera.
The uncomfortable chicken-egg riddle, "Are fat singers great or are great singers fat?" is as old as opera and as new as this spring's headlines. In May, a zaftig mezzo named Tara Erraught garnered insulting reviews when she sang the part of Octavian—a young nobleman—at the Glyndebourne Festival. As the backlash to this criticism crested, the ancient question was revived: is it fair—or even plausible—to ask opera singers to look the part?
As with so many others of life's great mysteries, the answer—at least based on Monday's concert—is, "it depends." Ms. Barton, for example, is nowhere near a size two, but that hardly matters, because she is a dynamo of a singer, wielding a large, deeply colored voice that never sounds heavy or ponderous. With a quick, energetic vibrato it sails all the way up to a resplendent high C, a note few other mezzos care to dwell upon.
There's a hungry, slightly aggressive quality to her singing, as if she can't wait to grab the audience by the lapels and shake them up. She and Ms. Wagner began the program with a duet from Verdi's Aïda, a vocal catfight between princesses. Ms. Barton almost immediately plunged her voice into a biting, almost guttural chest register, and returned to this feral sound over and over again during the scene. The effect was electric, like a thoroughbred straining against its rider's control.
Later, she sang a duet from Il Trovatore in which the gypsy Azucena has a vision of being burned at the stake, expressed in a wild phrase plunging from high G to low B. As this last note echoed through Central Park, applause broke out, right in the middle of the scene.
Ms. Barton is not primarily a vocal savage, though, as demonstrated in the elegance of her legato in the fervent aria "Acerba voluttà" from Cilea's Adriana Lecouvreur. The slow lyrical section of this piece lies low in the voice, but she kept the tone round and controlled, the sound of an aristocrat's passion. Two scenes from Bellini's Norma served as a reminder of her smashing Met debut in the role of Adalgisa last season and whetted the appetite for more mezzo showcase parts such as Donizetti's La Favorite.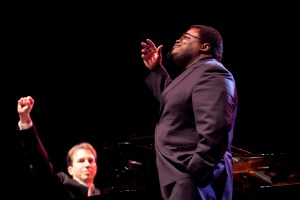 If this had been The Jamie Barton Show, it would have been worth two hours of a summer night, but Russell Thomas revealed a world-class spinto tenor every bit as resplendent as Ms. Barton's mezzo. Mr. Thomas has money notes to spare, tossing off high A-naturals nonchalantly in the tricky "Kleinzach" aria from Offenbach's Les Contes d'Hoffmann and finishing the concert on a ringing top B in "La donna è mobile" from Rigoletto.
In between, he proved himself an adept Verdi stylist in scenes from Don Carlo, Macbeth and Il Trovatore. True, he's stocky, like a fullback in the off-season, but he knows how to move onstage, and, more to the point, how to stand still. Like Ms. Barton, he will likely have a major future at the Met.
The issue of body shape became more problematic when Ms. Wagner took the stage. Her stately dramatic soprano took a couple of numbers to warm up, which meant the audience's attention was free to wander to her avoirdupois, trussed up unflatteringly in an ill-fitting frock of slate-colored jersey.
When the voice finally broke through, it was undeniably a major instrument, a waterfall of sound perfect for the soaring climactic phrases of the Don Carlo duet and Elsa's aria from Wagner's Lohengrin. Other pieces, such as "Pace, pace mio Dio" from Verdi's Forza del Destino were marred by the soprano's sluggish rhythm. "My Man's Gone Now" from Porgy and Bess, offbeat repertoire for the blonde Ms. Wagner, was her best number of the concert, performed with a dramatic gusto that otherwise eluded her.
So here's a new attempt at a "fat singers" rule: it doesn't matter how "grand" the body is, so long as the singing is grander. Ms. Barton and Mr. Thomas are evidence of that.