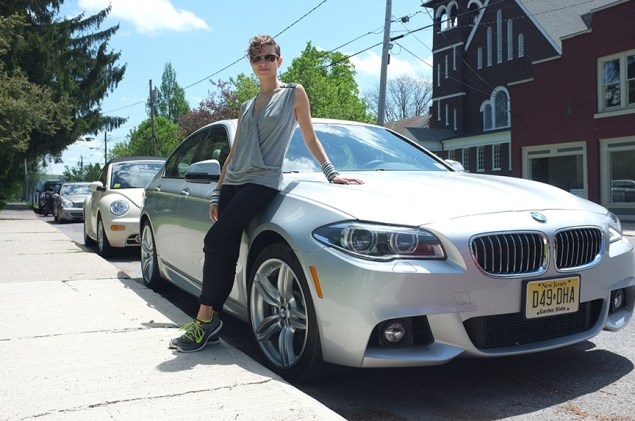 FRIDAY NIGHT PLIGHTS
The weather was going to be a problem. It started spitting soon after we got out of Manhattan and only worsened by the time we pulled off the Bronx River Parkway. My Travel Companion (TC) and sometimes navigator tapped at her iPhone, trying to direct us toward downtown Bronxville, where we would hop onto Route 22, New York's longest north-south highway and our main artery for the weekend. 
For us, this was terra incognita. And though we had been told we were in for a treat—that Route 22 was a great stretch of road, extending from the upper reaches of New York City all the way to Canada, winding through suburbs, small villages and even cow-grazing farmland—first we had to make it through the night without hydroplaning into a lake. 
Thankfully, the good folks at BMW were tricked into trusting us with one of the fancy cars from their fleet. Specifically, we were careening north in a 535d sedan. Compared to the 15-year-old Volvo we had just scrapped, after its engine died for the second time, the Bimmer didn't seem so much a car as a futuristic, leather-lined travel pod. In my brief tutorial with the vehicle, I absorbed little about all the buttons on offer—so many that I became afraid to move, for fear of hitting one accidentally and being ejected, or given an inappropriate backrub—but I did learn about the four different driving modes: Eco (fuel saving), Comfort (for cruising), Sport (for unfettered acceleration) and Sport Plus (even more aggressive). With a wink, I was assured that the car was "all torque." Sadly, on our first drizzly night of driving, I was all reluctance as we passed through the picket-fenced hearts of Eastchester, Scarsdale and White Plains. 
By the time we hit Kensico Lake, the city had long since receded, and Route 22 had fallen into glistening darkness, as the rain picked up again, becoming a proper downpour. In a half-whisper, half-prayer, TC wondered about the car's safety specs—had I been told anything about those? I pointed her toward the stat sheet we'd been provided. "Oh, look," she said, not quite relieved. "Five stars for rollovers."
Some 20-odd terrifying miles later, we pulled into a no-frills motel in Brewster—alive but famished—and then made for a late-night local fave, the Red Rooster Drive-In, which is unrelated to Marcus Samuelsson's Lenox Avenue outpost and features satisfying grease-bomb burgers. Although there's not much else to do in "the Hub of the Harlem Valley" past 11 p.m., we eventually found our way to the Bull & Barrel, a Western-themed watering hole that brews its own beer. There, we ordered pints, celebrating our sopping-wet survival, and waited for someone to get drunk enough to ride the mechanical bull.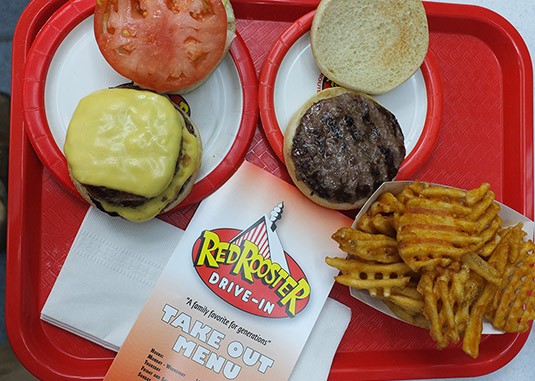 ***
ON THE ROAD AGAIN
When morning came, the skies had cleared and we woke to discover: Brewster is actually quite pretty! No longer consumed by fears of roadside flooding, we could finally appreciate the tiny wooded village for all it had to offer: horse stables, apple trees and beautiful, old colonial homes. Year-round, you can head to Salinger's Orchard for fresh doughnuts and other baked goods, or backtrack a few miles to dine at the impeccable Purdy's Farmer & the Fish, an upscale country-style seafood shack, which sources produce from its backyard garden. 
We didn't stop for a full meal until we hit McKinney & Doyle, a top-notch café, bar and bakery in downtown Pawling. The brunch menu there is indulgent, from strawberry cream cheese pancakes to generously sized asparagus omelets to cappuccinos served with finger bowls of cinnamon, white chocolate shavings and chocolate-covered espresso beans. 
After consuming enough butter and sugar to caramelize our intestines, we were back on the road, cruising past dudes on John Deeres. In between towns, amid the snaking curves of Route 22 and the countryside's thick green shag carpet, which occasionally leveled into horse pastures, a certain serenity began to take hold. Still, the gas pedal was a lusty seductress and I insisted on beating every Dutchess County soccer mom off the red-light starting lines, to TC's clucking disapproval. 
Another 30 miles on, we parked on the street in Millerton and explored its buttonhook of a main drag, wandering past a well-reviewed tapas restaurant (52 Main), a small movie house (The Moviehouse) and Railroad Plaza, where the farmers market is held every Saturday over the summer. The Harney & Sons tea company, which has a Soho location, is also headquartered in Millerton. Having once worked in a coffee-and-tea shop, I couldn't get out of town before sticking my nose in a few dozen tins of loose tea and buying two ounces of aged Pu-erh.  
All the eating and sniffing began to take a toll, however. As we cruised further up Route 22, TC's eyelids were at half-mast. She drowsily pointed out all the farm stands that dot the road before nodding off. Which is exactly when I decided to find out what this futuristic sedan could do. Switching between the Sport and Sport Plus modes, I tested the constitution of the tires, not so much hugging turns as sloppily molesting them, veering across the striped center line of the two-lane road to pass Subarus and pick-up trucks whose bumper stickers said things like "My Dog Is a Mensch" and "I Don't Trust the LIBERAL MEDIA," until we eventually skidded to halt, nearly 150 miles later, after cutting west toward Lake George. 
***
U-S-A! U-S-A!
First opened in 1883, the Sagamore, a hotel and resort, sits on a private island off the western banks of Lake George, in Bolton Landing. Having spent much of the past 24 hours inside a metal machine, we were ready to investigate the grounds. TC leafed through a brochure and self-debated what we ought to do first. 
Massages? No! 
Horseshoes? No! 
Swimming! Yes, definitely swimming. 
With that decided, we went for a walk on the nature trail, a short, manicured path that runs the lip of the lake, under a canopy of pine trees. Cruising along in our own personal Comfort modes, we soon discovered a series of outdoor activities, including a bonfire in progress, various courts (basketball, volleyball and tennis) and a jungle gym, where we stopped to sit on the swings. When I pointed out that my swing was going higher, hoping to spur a little competition, TC told me earnestly, "I don't want things to get out of control."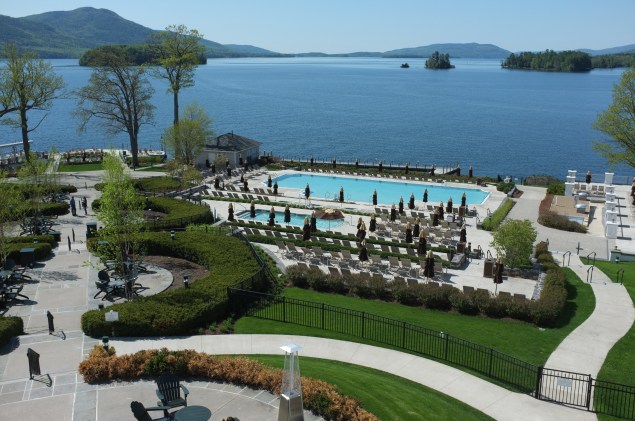 As for the hotel proper, it underwent a serious renovation that wasn't completed until last spring. "Before that, it was weird," I overheard one guest tell his friend. Now, the lobby and its environs, which traffic heavily in Americana, feel, more than anything, like a summerized winter lodge—which is appropriate, since the property remains open year-round.
For dinner, we ate at the Club Grill Steakhouse, located by the first tee of the resort's golf course. Highlights from the meal were pulled straight from some patriotic playbook and included a toasted hockey puck of goat cheese that came with the beet salad (sort of like a grown-up mozzarella stick), grilled jumbo white prawns (as meaty as lobster), beef tenderloin and, for dessert, homemade caramel ice cream that made me want to chant: U-S-A! U-S-A!
And yet the lake was the true attraction. 
Earlier that day, as we sat in a hot tub, I stared out at Lake George and the mountains that surround it, like the seats of an amphitheater. Water is always hypnotic, whether it's the repetitive meditation of ocean waves licking the shore or the hush that comes off the total calmness of a lake, save the occasional kayak or motorboat. With a glass of Sonoma County cab in hand, I thought then about how a road trip gives one the feeling of both constant motion and constant stasis: you're never really moving but always somewhere new. And how, in some ways, that is the inverse of life in the city, where you're always moving but never really somewhere new. There, in that hot tub, we were finally—perfectly—still.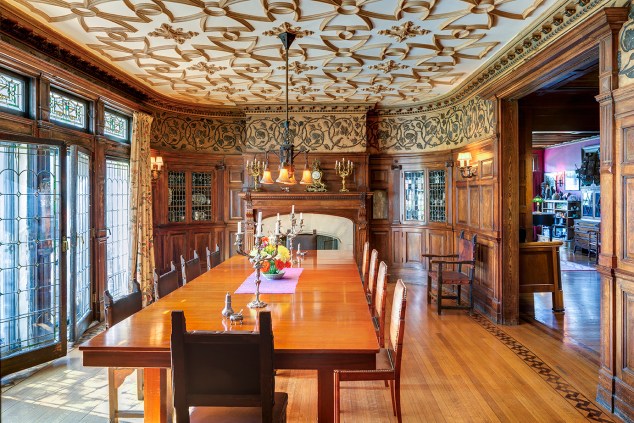 ***
ROCK, ROCK, ROCK 'N' ROLL HUDSON
Walking down Warren Street, Hudson's main commercial strip, one would be forgiven for not mistaking the string of design stores, art galleries, foodie-forward eateries and vintage bazaars (which stock everything from velvet wing chairs to life-size horse lamps) with a '70s-era punk show at CBGB—and yet it is the same DIY mentality that drives this little town, two hours north of New York City. 
Perhaps that's why so many ex-rockers feel at home here, in this former whaling village that suffered slow industrial decay before planting the seeds of its revival as an antiquing destination. Counted among Hudson's neighbors are Tommy Stinson of Guns N' Roses, Rasputina's Melora Creager and Melissa Auf der Maur, who played bass with Hole and Smashing Pumpkins and now owns and operates Basilica Hudson, an event and performance space in what was once a glue factory. Even our hosts for Sunday evening, Dini Lamont and Windle Davis, were former members of the rock outfit Human Sexual Response. 
"This has always been the best block in Hudson," Mr. Davis said, as he led TC and me on a tour of the Inn at Hudson, their unlikely bed-and-breakfast in a century-old mansion on Allen Street. Formerly a care home for the elderly, the mansion needed serious repair when the men first moved in, nearly a decade ago. Now it is featured frequently in design books and architectural magazines. And for good reason: the place has been transformed into a quirky clutter of curiosities, an anti-"doily factory." Poking through the rooms, which are guarded around-the-clock by a Mohawked border terrier, one is compelled to pick up every tchotchke and read every book title on the library shelves, which range from Marijuana Botany to Carrie to the Holy Bible. 
Back on Warren Street, there was more to explore after we sat at Swoon Kitchenbar for a midday snack of crispy artichokes, which made me reconsider whether I ever wanted to return to NYC. Food-loving locals also swear by Daba, Helsinki Hudson (a restaurant and music venue) and P.M. Wine Bar. With hours to kill, we wandered into Hudson Wine Merchants, co-owned by Michael Albin—whose old band, Beme Seed, toured with the Butthole Surfers and Sonic Youth—and talked to the store's helpful wine geeks, who turned us on to a super-earthy syrah from Hervé Souhaut. At The Half Moon, a dive bar by the river, we shot a few games of pool. And then: time for dinner. 
Since it opened last May, Zak Pelaccio's ode to all things locavore, Fish & Game, has been a near-impossible reservation in Hudson. As we waited for our table, bartender Kat Dunn mixed TC a Blue Gin martini, while I had a white-and-dark-rum daiquiri. Once seated, there were no more decisions, since all patrons must have the tasting menu—on this night, seven courses, with an optional eighth: cheese. 
Despite rumors that Mr. Pelaccio has given up his fatty ways in favor of lighter fare, I found the food to be plenty rich, which isn't to say there weren't standouts, like asparagus with duck egg, brown butter and rhubarb kimchi and a wolf fish, served with smoked fish congee and kale kimchi. (What? Dude loves his kimchi.) Still, a meal like this is not for nightly consumption. Nor is it for the faint of heart. Or wallet: the tasting menu runs $75 per person, plus drinks. 
For us, however, this was a special occasion. Not only were TC and I enjoying a weekend away, but the following day was our two-year wedding anniversary. In a dining room flanked by taxidermy and lit by flickering candlelight, we succumbed to the vibe, which TC described as "modern lodge" and "comfortable chic," allowing nostalgia to take hold.
Over the final dessert course, for instance, TC shared a story from our wedding day about how her mom had imparted some last-minute love advice, disguised as a gut check. That counsel: TC needed to look at her potential partner (me) and be okay with who I was on that day. I may change and evolve, sure, but she couldn't go in with any expectations. "She said it wasn't too late to back out," TC told me. 
Thankfully, she didn't back out. But I thought about that story as we sped off the next morning. In the rearview was Hudson, an ever-evolving town. Up ahead, the open road. Still digesting various forms of kimchi, I drove in Sport mode the whole way home.