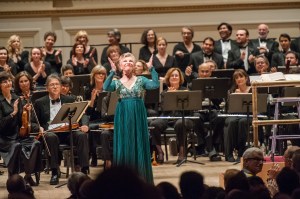 At Carnegie Hall last Thursday, a capacity crowd witnessed what might be the final official act of a monarch who has reigned for more than four decades.
Since 1972, Eve Queler, conductor laureate of Opera Orchestra of New York (OONY), has presented concert performances of mostly rare operas with star casting. Aptly, Thursday's program included Donizetti's 1837 opera Roberto Devereux, which centers on Elizabeth I of England—a queen every bit as revered and flawed as Ms. Queler. This Devereux, the company's only offering of the season, could serve as a summation of the conductor's artistic strengths and weaknesses over the years.
To begin with the negative side of the scorecard, despite all her on-the-job training, Ms. Queler has never developed into anything more than a mediocre conductor, even on her best nights. This concert highlighted her least-attractive qualities on the podium: unidiomatic cutting of the score, a wayward beat, micromanaging of vocal phrasing, and, worst of all, a tendency to blow up fortissimo passages into a wall of ugly orchestral noise that blots out even the hardiest singers.
OONY has had to put up with Ms. Queler's inept conducting because she has been and remains a superb impresario. For over 40 seasons, she has programmed works that are difficult or obscure or both, almost always to full, enthusiastic houses; and, what's more, she's persuaded some of the world's most exciting A-list singers to drop into New York for one-off performances.
She has scooped the Metropolitan Opera on more than one occasion, introducing, for example, the spectacular Bulgarian dramatic soprano Ghena Dimitrova four seasons before her debut at Lincoln Center. One of the first OONY concerts I heard was back in 1989: Bellini's Il Pirata, presented with understudies in the leading roles, "on tour" in a high school auditorium in New Jersey. In the prima donna role of Imogene was an unknown young soprano named Renée Fleming, still two years away from her first appearance at the Met.
Ms. Queler's flair for intriguing casting remains strong. For Devereux, an opera about the tragic love affair between Queen Elizabeth and the Earl of Essex, she coaxed the veteran soprano Mariella Devia to make a return visit to New York more than a decade after her last performance here. Though she had a creditable Met career in the 1980s, Ms. Devia's biggest local successes have been with OONY, dating back to Delibes's Lakmé in 1981. This Devereux was the crown of her New York career and a lesson in the 19th-century art of bel canto.
The soprano is 66—coincidentally the same age as the character of Elizabeth I in the opera—and her light, cool soprano is remarkably well preserved, without a hint of wobble or pitchiness. She remains a superbly musical singer, phrasing with simple elegance and ornamenting the melodies gracefully and discreetly. In the long and difficult final scene, during which the queen receives the news that her lover has been executed, Ms. Devia sounded fresh and energetic. After spinning out filigree legato lines in the wistful aria "Vivi ingrato," she capped the fiery finale, "Quel sangue versato," with a high D natural that streaked into Carnegie Hall's vast auditorium like a bolt of lightning. Even before the echo of that note faded, the audience was on its feet, roaring approval.
That Ms. Devia won this triumph is all the more remarkable because the part of Queen Elizabeth is less than an ideal fit for her talents. The role includes a number of scenes of anger, most notably the second act's finale, "Va, la morte sul capo ti pende," in which the queen furiously condemns her lover to death. It's a wide-ranging piece, including several key low passages that imply a bold use of chest voice. Ms. Devia instead approached this piece lyrically, hinting at rage through brisk rhythm rather than vocal muscle. As singing, it was always beautiful but rarely thrilling.
These minor reservations notwithstanding, the soprano towered over the rest of the cast. As the queen's rival, Sara, Géraldine Chauvet unfurled a warm, feminine mezzo-soprano that was a perfect match for her character's single emotional note of gentle regret. Sour high notes, though, spoiled the climax of her farewell duet with Roberto that closed the first act.
Equally attractive was the baritone of David Pershall, though in his case, this quality was something of a liability. His character, the Duke of Nottingham, spends most of the opera in a jealous fury, and, as hard as Mr. Pershall pushed his voice, it never really achieved the force-of-nature impact the writing implies. Among supporting roles, the standout was Sava Vemic, whose thundering bass had the audience scrambling for the program and asking, "Who is he?" after his cameo as Sir Walter Raleigh.
It's never a good sign when the title role includes the weakest singing of the night, but that's what happened with tenor Stephen Costello's disastrous turn as Roberto Devereux, the Earl of Essex. The young singer boasts a handsome timbre marred by scooping and a lot of flat singing in the upper-middle part of the voice. Though he has performed this role onstage before, next to Ms. Devia he sounded like he was sight-reading, offering only the most generic interpretation.
What's worse, he looked miserable onstage, glowering and sulking even during his curtain call. Many opera singers can't act, but most of them—the successful ones, anyway—develop a sort of poker face, projecting the sense that they are happy and excited to be singing. Mr. Costello's performance, in contrast, revealed that he knew full well just how badly the show was going for him.
In the last moments of the opera, in a most unhistorical touch, the heartbroken Queen Elizabeth abdicates her throne. Given the ongoing financial difficulties of OONY, including weak ticket sales for this gala event, maybe it's time for Queen Eve to consider taking a similar step.