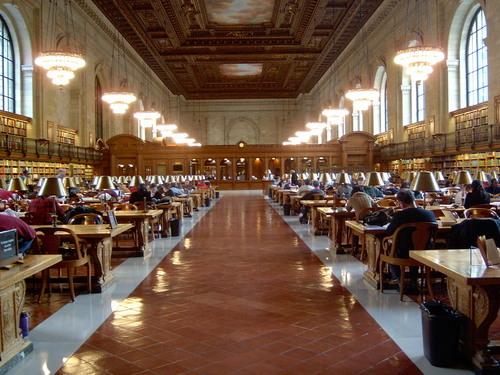 As if we needed another reminder that print is dead: the New York Public Library is literally collapsing.
The New York Public Library closed its largest reading room after a piece of plaster fell from the 52-foot-heigh ceiling Wednesday night after business hours.
The Deborah, Jonathan F. P., Samuel Priest, and Adam R. Rose Main Reading Room, which is nearly two city blocks long, as well as the Bill Blass Public Catalogue Room, will be closed for several weeks to ensure that the building doesn't crush the bookworms beneath.
The Rose Main Reading Room was built in 1911 and renovated in 1998. It is a current Beaux Arts Landmark, according to the New York Times.
Although no one predicted the room's self-destruction, the NYPL website's description of the room as synthesizing "old World architectural elegance" and "modern technology" rings a few Orwellian warning bells.
Doublethink, anyone?
In other meta end-of-the-world signs, the 40,000-book room seats patrons under a "mural of vibrant skies and billowing clouds," according the Library's website.
Well, library lovers, someone call Chicken Little because it looks like this sky is falling.