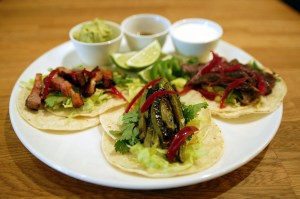 It's a pop-up taco shop, with $2 tacos and $4 Mexican beer.
But this pop-up isn't a run-down stand along the boardwalk, or a food truck trundling along New York's bustling streets. It's inside an established restaurant, where entrees usually cost about $26. There's no fajita meat of questionable origin in sight. To the contrary, one of the tacos is made of pig's ear.
Welcome the new era of pop-ups, where classy restaurants reinvent themselves for one night only.
Tonight is Tacos & Tequila, one iteration of Louro chef David Santos' Nossa Mesa Supper Club, which brings new eats into the restaurant's existing facility. Each Monday, the restaurant's patrons are treated to a completely different menu, with none of Louro's usuals available. Often BYOB, the menu highlights the creativity and passion of the chef.
"Monday is classically the hardest day for service, so we thought, 'what do we do, do we close?,'" Mr. Santos told the Observer. "Instead of trying to drag people in to the restaurant, we wanted to give them something to look forward to on Monday nights."
Santos' previous gig—the Um Segredo supper club—developed a cult following for the multi-course meals cooked out of his home.
Louro hosts pop-ups like Tacos & Tequila, which was originally a Cinco de Mayo success, but also showcases guest chefs and culture-themed meals. April gave way to a Game of Thrones dinner, complete with a "dragon's egg."
"As cooks, we tend to really just love the simple things. The supper club allows me to make fun things that people really enjoy," Santos said.
And this chef isn't the only one moving out of his comfort zone.
Chef Corey Cova started Flock just over a year ago as a pop-up within his own apartment, cooking an experimental tasting menu that let him push his boundaries in the kitchen.
"I was a chef at a restaurant in the neighborhood, a comfortable neighborhood spot, but there was not a lot of room to have fun as a chef, to be more experimental," Mr. Cova said. The chef describes the pop-up dinners as hit or miss, since sometimes the meal represents his first attempt at a new food or technique.
For Mr. Cova, the experience isn't about the money, investors, or potential for a Flock restaurant. He keeps the cost for patrons down and just hopes to break even at each dinner. "It's a learning experience, as long as each one gets a little better and I keep coming up with unique approaches to these dinners," Mr. Covo told us. "It's less financial, more personal."
Luxury pop-ups run the gamut. The temporary foodie heavens are popping up across the city, offering exclusive and often fleeting tastes of chef experiments. From underground supper clubs like Flock to the dinner diversity at Louro, upscale restaurants and chefs are swooping in on the fad.
Bangkok staple Bo.lan just ended its three day run in NYC, using the transition time while it switches locations to bring authentic Thai food to New Yorkers. That's a 20-hour trip to serve some curry with beef shank. And Mission Chinese, a SanFran favorite, is posting up behind Frankie's 457, open on scattered dates through the end of June.
Ultimately, this is no street fair fare—it's a posh pop-up world. We're just living in it.