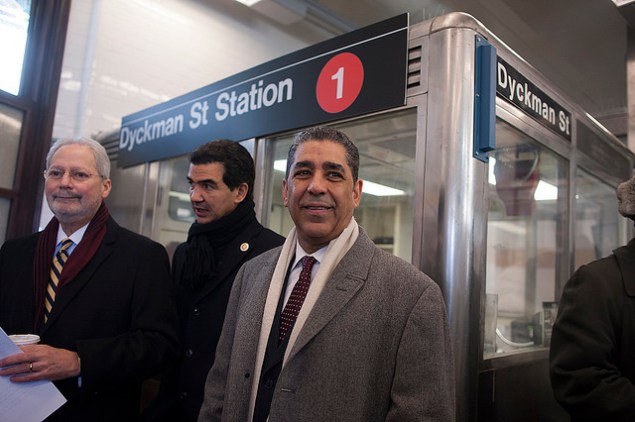 There's a table at the Indian Road Cafe where the future mayor of New York City sat last year. Adriano Espaillat, the Democratic state senator who may just topple one of the more legendary elected officials the city has ever had, is happy to point it out.
"When someone is running for governor or someone is running for mayor, they take a look at those numbers and they see whether that community comes out or not [to vote]," Mr. Espaillat told the Observer during a recent interview at a favorite Inwood, Manhattan spot.
"So I met right here, right at that table with Bill de Blasio, with Billy Thompson and with Christine Quinn because they were interested in having this neighborhood come out for them. I think a lot of that has to do with numbers, right?"
Mr. Espaillat is less than one week away from what could be the crowning moment of a methodical, decades-long slog–from an outsider who lost two City Council races in two years to a power broker in two boroughs–that has seen him outlast bitter rivals, consolidate his allies and craft a political machine that is more cohesive and valued than just about any in the city. The 59 year-old is not as suave, eloquent or decorated as Congressman Charlie Rangel, the octogenarian Harlem lawmaker still old enough to be Mr. Espaillat's father, but after decades in the relative political wilderness, the Dominican-American immigrant is on the verge of driving Mr. Rangel out of office.
It's a remarkable turnaround for a politician who once sold his car two weeks before a primary to raise badly-needed campaign cash, barely won a Democratic district leader race and was told by an opponent that the state attorney general–now Gov. Andrew Cuomo–should investigate him for corruption.
"He came up through the ranks in Washington Heights, a time when the community was not really on the political radar in the city," said Angelo Falcón, president of the National Institute for Latino Policy. "He's one of the older politicians and he's very smart in the way he's moved politically. His rivals have fallen by the wayside."
Mr. Espaillat is running in a district redrawn in 2012 to include a majority Latino population. The 13th Congressional District, spanning Mr. Espaillat's upper Manhattan base and the northwest Bronx, was once the African-American stronghold that Mr. Rangel dominated as one of the so-called "Gang of Four." (Only two members still live: Mr. Rangel and former Mayor David Dinkins.)
Year after year, Mr. Rangel swatted away challengers or simply didn't have any. He chaired the powerful tax-writing committee, ways and means, until a House of Representatives censure following an ethics scandal stripped him of his chairmanship and clout. With the Democrats entrenched in the minority, it's not clear how Mr. Rangel–who has said he wants one more term to help carry out President Barack Obama's agenda–or Mr. Espaillat, as a freshman Democrat, can move the needle in Washington.
But if Mr. Espaillat, who nearly defeated Mr. Rangel two years ago, prevails now or in the future, his immediate prize will not come in Washington, where congressional Democrats are all but impotent. The payoff will be in New York City, where Mr. Espaillat will be cemented as one of the few legitimate kingmakers in town.
Power, however, is not on Mr. Espaillat's mind–or so he claims.
"Power is subjective. Very subjective word. I don't see it. It doesn't register," Mr. Espaillat said, nibbling on a croissant. "For me it's more about organizing, I think I've been a good organizer."
Mr. Espaillat's dogged organizing, allies and foes admit, was a reason the leading candidates for mayor trekked up to Inwood last year to make their pleas for Mr. Espaillat's endorsement. Mr. Espaillat has only been a state senator since 2011 and a 14-year assemblyman before that–he was close to Speaker Sheldon Silver, but so were other Manhattan Democrats–but he was bombarded with emails, text messages and phones calls from the mayoral contenders, including Mr. de Blasio.
"They call every day. Every single day," Mr. Espaillat marveled a year ago. He would end up picking the wrong horse, Bill Thompson, but helped deliver minority votes for Scott Stringer's successful comptroller bid against ex-Gov. Eliot Spitzer in what was otherwise a racially polarized contest.
Since winning his assembly seat in 1996, Mr. Espaillat has labored to boost the voter turnout in the heavily Hispanic neighborhoods of Washington Heights, Inwood and Marble Hill, registering scores of new voters to both engage people in the democratic process and consolidate his own power base for his congressional bids.
By playing a strong hand in local races around upper Manhattan–he drove the winning campaigns of Manhattan Councilmen Mark Levine and Ydanis Rodriguez, as well as Assemblywoman Gabriela Rosa–Mr. Espaillat presides over a political machine that is now more relevant than the old Harlem clubhouse, win or lose this Tuesday. With a ring of elected officials aggressively loyal to him alone–staffers for Mr. Levine and Mr. Rodriguez have thrown themselves into Mr. Espaillat's congressional campaign, along with the council members themselves–Mr. Espaillat may have checkmated Mr. Rangel and his allies.
"He's been looking at the chess board, deciding where and when to move the pieces for the strategic gain of getting a congressional seat," said a northern Manhattan Democrat who has watched Mr. Espaillat rise. "The take on him is that 'you're with me or against me.' That's the bottom line on how he does business. If he thinks you are powerful enough, resourceful enough, he'll approach you completely differently–he'll want to negotiate, come to an agreement."
"He has pretty much governed who runs for office in the Latino community in northern Manhattan," the Democrat added.
A new poll released today still showed Mr. Espaillat trailing Mr. Rangel by 13 percentage points. The two other contenders in the race, Pastor Mike Walrond and Yolanda Garcia, were much further back.
Mr. Espaillat's campaign, predictably, dismissed the poll.
****
Mr. Espaillat was endorsed by the New York Times this week. Suffice it to say, the Gray Lady was feeling very differently about the mustachioed City Council candidate in 1989.
"Mr. Espaillat, a coordinator with a city-funded bail reform agency, might make a promising candidate in the future, but would benefit from less rigidity and more seasoning," the paper wrote in their endorsement of Washington Heights Councilman Stanley Michels, who they said had "energy and his sensitivity to his district's ethnic diversity."
Mr. Espaillat was 34, a Queens College graduate and baseball fanatic who first came to America in 1964. He had spent the 1980s, in addition to running a substance abuse program, doing what any aspiring elected official does: joining community groups and trying to boost his name recognition for a future bid. As a cocaine epidemic swept across the city and crime soared, Mr. Espaillat joined the local police precinct community council and community board uptown, where he served as public safety chair.
"We did good job bringing in police services here," Mr. Espaillat said. "This was sort of like the center of distribution–homicides, break-ins, merchants being followed home and killed."
While a Latino population was migrating to the area in the late 1980s, the political elite was still white and African-American. Mr. Michels, along with then-Assemblyman John Brian Murtaugh, were wary of the young upstart, even though he failed in 1989 to unseat Mr. Michels.
Two years later, it wasn't even apparent that Mr. Espaillat would be the standard-bearer for Dominican immigrants in uptown Manhattan. Guillermo Linares, a doctorate-holding fellow Dominican immigrant–he grew up dirt poor in the Dominican Republic and came to America at 15–beat Mr. Espaillat in a battle for a redrawn, Latino-heavy council district.
Mr. Espaillat was left to scrap for an unpaid Democratic district leader post in 1993, which he managed to win. As Mr. Linares enjoyed the accolades that came with being the first city elected official from the Dominican Republic, Mr. Espaillat was anonymous, just trying to hang on after fending off a challenge in 1995.
"These were very contested races. They were costing like $20,000," Mr. Espaillat recalled.
He took aim a year later at Mr. Murtaugh, an assemblyman close to the uptown Democratic establishment. Mr. Espaillat had founded his own political club, the Northern Manhattan Democrats for Change, that opposed Mr. Linares' club.
Mr. Linares fell behind Mr. Murtaugh, but the longtime pol, who hailed from the old Irish-American establishment, was representing a district undergoing rapid demographic change. Mr. Espaillat mobilized new Dominican voters, believing that if he wasn't able to knock off Mr. Murtaugh that year, his political career would be finished.
"It was do or die in '96. I had lost two races and I thought, 'if I lose this one I gotta pack it in,'" he remembered, claiming that he ran out of campaign cash for the final two weeks of the primary and had to sell his car to keep his bid going.
Sans automobile, he defeated Mr. Murtaugh in the Democratic primary.
Mr. Espaillat, who at times has aped Mr. de Blasio's "tale of two cities" rhetoric on the trail this year, was not quite a leftist insurgent when he was first elected to office in 1996. The Village Voice reported in November of that year that Mr. Espaillat's campaign coffers were flushed with money from the Rent Stabilization Association, a group dedicated to weakening rent control laws.
"Despite generally welcoming Espaillat as a much-needed young, energetic voice with roots in Washington Heights' Dominican community, local activists … are concerned," the newspaper reported.
In his first years as an assemblyman, Mr. Espaillat would rack up a record the Village Voice called "impressive," though one vote he took in 1999 still haunts him in his current clash with Mr. Rangel. Opposing the sort of liberals he is now aligned with, Mr. Espaillat voted for the repeal of a tax on suburban commuters who work in the five boroughs.
The Rangel camp turned the vote into fodder for furious campaign literature. Mr. Espaillat told the Daily News last week he regretted voting for the repeal.
During those early years, Mr. Rangel didn't pay much attention to the new assemblyman aligned with him on most issues anyway.
"His introduction to me was almost embarrassing, but I knew he wanted to let me know how much he loved and liked me. I would say, 'Who is he?" Mr. Rangel told the Observer last month. "What motivated him [to challenge me]? Did he think there was a big vacuum there? Did he think maybe I missed something? Hell no! He looked at that new district and he figured he could win on numbers."
Mr. Espaillat and Mr. Linares also continued to feud. An open City Council race in 2001 allowed for another proxy war between the two Dominicans–this time, Mr. Espaillat was gaining the upper hand, successfully backing a protégé named Miguel Martinez over a candidate Mr. Linares endorsed.
Mr. Martinez would go to prison for stealing public funds less than a decade later. Another protégé and former Espaillat staffer, Nelson Castro, would suddenly resign his assembly seat in 2013 after working as an informant to avoid criminal charges.
But Mr. Espaillat himself–even after the New York Post reported last year that the FBI was questioning how he funded a favored nonprofit–has avoided the taint of corruption. The Rangel camp, at least so far, has not drummed up that story.
****
What has defined Mr. Espaillat's second bid against Mr. Rangel has been the establishment support that defected from the incumbent. Few politicians fear retribution from the Lion of Harlem any longer and are making peace with the political reality, observers say, of Mr. Espaillat's ascent.
Former Rangel backers like Council Speaker Melissa Mark-Viverito, Comptroller Scott Stringer and Bronx Borough President Ruben Diaz Jr.–all people who may run for mayor one day–have flipped their endorsements to Mr. Espaillat. Major unions like the United Federation of Teachers and the Hotel Trades Council have followed suit. Mayor Bill de Blasio, the campaign manager of a Rangel bid two decades ago, snubbed the Harlem lawmaker and chose not to endorse anyone.
In a district that is Latino, black and increasingly white as gentrifiers move uptown, Mr. Espaillat is framing himself as a consummate coalition builder. His allies believe Mr. Rangel, who charged that Mr. Espaillat is only running because he is a Dominican taking advantage of a redrawn district, neglected too much of the district beyond his central Harlem base.
"Even though he represents the whole district, you go up to Washington Heights, Inwood, you see most of the resources stay only in Harlem. He never included the whole district," argued Mr. Rodriguez, an Espaillat confidant who succeeded the jailed Martinez.
Longtime watchers of Mr. Espaillat see a canny pol who has evolved from making blatant nationalistic appeals to weaving multiracial coalitions. With Dominican-American voters being able to participate in elections in their native country, Mr. Espaillat has channeled the enthusiasm Dominican-Americans feel about their homeland elections for his own benefit.
Mr. Espaillat's first bid for Congress, for example, happened to coincide with a presidential election in the Dominican Republic.
"He understood that the Dominican electorate in Washington Heights was energized by voting in elections in the Dominican Republic, which translated into a nationalistic fervor," said Ed Morales, a journalist and filmmaker who has covered Mr. Espaillat. "He has tried to seize on that."
Mr. Espaillat called Mr. Linares, who tried and failed to unseat him two years ago, a "traitor" in campaign literature after he accepted Mr. Rangel's endorsement. The implication was clear: a Dominican politician was betraying his people by siding with Mr. Rangel.
"When Guillermo Linares had the chance to help send the first Latino from Northern Manhattan to Congress," the flier read. "…He chose instead to betray us." Mr. Rangel and his campaign have not tired of reminding voters–and the press–about that flier.
This time around, Mr. Espaillat avoided such rhetoric. In the world of Mr. de Blasio's resurgent left, Mr. Espaillat is swerving that way, blasting Mr. Rangel for his corporate donations and his vote to repeal a seminal act separating commercial and investment banking.
Sitting in the Indian Road Cafe, where he claimed his old enemy Mr. Murtaugh lived a few floors above, Mr. Espaillat mused about the rivals he had felled and the giant standing in his way. When asked about Mr. Rangel's outright disdain for his candidacy, a grin flashed like a knife blade across his face.
"It speaks to a reality that maybe he's still wrestling with that I'm a contender and I'm going to win this," Mr. Espaillat said.