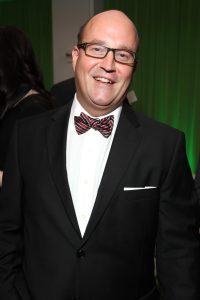 A downpour unloaded on the city as a gaggle of Southern chefs crowded around as many shots of Makers Mark in Nolita a Friday night in June. The Farmer's Almanac has decreed that living in New York this summer will feel like living in the Deep South. They bounced around the sticky basement kitchen of Grit City, the culinary salon founded by North Carolina-transplant Sarah Simmons as they prepped for the Big Gay Mississippi Welcome Table, a dinner held in protest of a law, the Religious Freedom Restoration Act, which goes into effect on July 1 in the Magnolia state. Critics say it may allow businesses to discriminate against gays and lesbians. Supporters suggest otherwise.
John Currence of City Grocery in Oxford, MS couched it as a genteel version of dissent. "This dinner is meant to broadcast the message that the folks that would [discriminate] are a very small minority of people that live in the state of Mississippi. The vast majority of [us] would not allow anything like that to happen." Kelly English, a Memphis chef with a mop of curly brown hair, whipped up the idea with Mr. Currence while drinking something "brown and wet" a couple months back. Mr. English protested a similar law introduced in the state of Tennessee and it quickly died. The 80-odd guests ate Mr. English's slow-roasted rabbit as the evening's third course.
Bill Smith, the rosy-cheeked executive chef of North Carolina's Crook's Corner, toted around a grin and a Brooklyn Pilsner as he prepped shellfish stew. He grew up in the Civil Rights-era South and came out in his 20s. He paused and cocked his head, searching for an appropriate opinion of the law. "Sharia." But the South is growing gay-friendlier, right? "Depends on what church you go to." Nearby, Toro's Jamie Bissonnette built little towers of pickled oysters.
Oprah's former chef Art Smith, clad in a camo chef's jacket, pronounced, "As a gay man, I am very proud [to be here].…We live in cities where we can be big and bold and fabulous and [some of you may] live in places that could discriminate against you." Bob Dylan's "Don't Think Twice, It's Alright" surfaced in between sentences. "I thank you because you've enabled me and [my partner] to return [our] family back to the South, so that they may be acknowledged and not discriminated against."
"Don't you want to make out with guys all summer?" a newly single Sarah Simmons asked. She recently committed to a ten-year lease on a space a few blocks from Grit City for her new venture, Birds & Bubbles, an ode to how perfectly champagne pairs with fried chicken. ("It cuts the fat.") After she signed on the dotted line, she went out and promptly got drunk. With her mom. What got her up to the big city in the first place? "I did not want to be 80-years-old and had never left the South. I was scared I was gonna get married and have a hundred kids!" Still, she's eyeing a spot for a new restaurant in Columbia, South Carolina.
"Upstairs, Morgan Freeman chatted up an Ole Miss buddy. He has a home down the road from the state's flagship university. "I hate to talk about Mississippi because I never have anything good to say about it. Ole Miss is the bright spot in the state," Mr. Freeman said, wandering off-message while fingering the stem of his wine glass. He said he's in talks for a role in the long-gestating Ben-Hur reboot."
The 35th annual Mississippi picnic, held the following day in Central Park, arose in another climate: dry and just warm enough to warrant a sunhat, the uniform for the afternoon. Rachel McPherson, a petite brunette with bright eyes and a hippie's swagger, started the event with a small group of Southerners, some of whom were homesick, others who just liked to get together and hear a familiar accent. The event's long-suffering line-cook of nearly three decades, Ken Akins, shuffled fry baskets submerged in oil as golden curly-cues of catfish bobbed to the top. He hustled out 500 pounds along with hush puppies, coleslaw, and French fries, all served up by a line of beauties bearing nametags stamped with their town of origin. Katie Ladner, a musical theater actress from Meridian, MS currently starring in "Heathers the Musical" belted out show tunes from a nearby stage and a plump, middle-aged photographer ran around asking people where they're from. NYC? She readjusted her camera strap and turned away. The South? Click, click, click. About two thousand people wandered through the booths that afternoon, reading up on Faulkner, Mississippi filmmaking and caramel cake. Was Ms. McPherson homesick when she started the tradition? "My purpose was all about the South and the image it had coming out of the 60s. I was so damned irritated." Even so, don't you miss being down there? Her nose turned up. "No, nooooo. Mississippi is where my roots and my heritage are…" she smiled real big, "…but [New York] is my home."