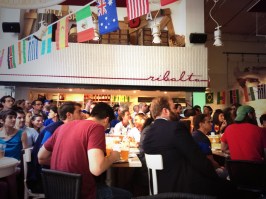 Maybe I'm just bitter.
When the World Cup games happened last, I didn't have my driver's license (which is important if you live in the suburbs). I needed my father to pick me up from a dance rehearsal, but when I called him he could only sputter, "Sorry, I can't—I've been waiting four years for this game!" I waited for over an hour until my mom was free to come get me.
Daddy issues aside, soccer was never really my thing to begin with. For that reason, I wasn't sure what I was getting myself into when I entered Greenwich Village's Ribalta Italian restaurant for the noon Italy vs. Uruguay match. Though I would describe it as the swankiest pizzeria I've ever seen, it had the atmosphere of a rowdy dive bar. Air horns, Italian curses and a sea of blue jerseys greeted me.
Ribalta had been wise to warn me: "We do not guarantee your safety at this event if you're a Uruguay fan," they wrote in an email. I planned on heeding this advice without question.
Though getting swept up in the excitement of the World Cup calls for no prerequisites, as an amateur spectator, I decided to do my homework. It didn't take long for me to stumble upon two Slate articles that caught me up to speed: Italy is generally loathsome and Uruguay's Luis Suarez bites. As those of you who caught the game well know.
As time passed and the score persisted at 0-0, I started to become just as antsy as the rest of the crowd—holding my breath for every almost-goal, shaking my head at every dramatic tumble—and soon enough some guttural "Come on!"s escaped.
Some might call it "mob mentality."
But if fútbol still isn't your cup of tea, maybe it's your slice of pizza. Ribalta treated me to their classic Neopolitan-style pizza as well as their off-beat Americana pie: It's your typical cheese pizza, plus french fries and hot dogs. Avocado lovers chowed down on a specialty guacamole pizza. The restaurant is also known for having the city's only brick oven completely devoted to gluten-free pies. This was a happy accident: Ribalta's chef is allergic to gluten.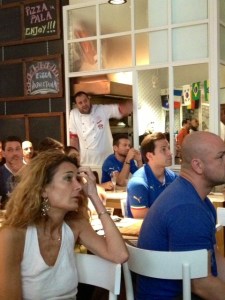 As the 90 minutes wound down and Uruguay scored a goal, the crowd got rowdier. Some were wearing worry-stricken expressions, while others were visibly infuriated, throwing their hands up and jumping to their feet with every ref call favoring Uruguay. A small child cried. People pushed to get a better view of the big screen; others shoved.
I became increasingly fearful. What would happen if they lost? Or, better yet, what would happen if they won?
Though I expected an eruption of anger when the game ended with Uruguay taking the win, there was only quiet despair and upbeat music as people finished their final sips of beer and petered out. To my surprise, Ribalta's owner, Rosario Procino, remained cheerful.
"Oh well," he said. "We'll still celebrate."