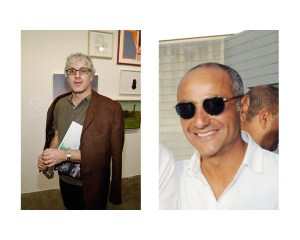 You would not expect that David Mugrabi—one third of the Mugrabi family empire that's amassed nearly a thousand paintings by Andy Warhol—and Josh Baer—the art world's consummate insider who started sending out his newsletter, The Baer Faxt, in 1994 via an actual fax machine—to have a whole lot in common.
But when the duo took the stage today in Basel for the first talk of the art fair's salon series, they were dressed nearly identically: light pinkish-purplish dress shirts, sport coats, tight no-wash blue jeans, smart brown leather loafers with brown socks.
And though Mr. Baer, too, is a collector (albeit of somewhat lesser means) the similarities between the two mostly end there. Mr. Mugrabi is cool-headed and self-serious (especially compared to his fiery, impetuous father Jose and his jet-setting, party boy brother Alberto, known to his legion of celebrity friends as Tico.)
Mr. Baer, on the other hand, started out the talk sarcastically with this introduction: "Little-known fact—David played third base for the Mets before getting into the art world."
To kick the salon off, Mr. Mugrabi blitzed through the American dream that is his father's transformation from a Colombian textile macher to the man with a sprawling, Warhol-lined apartment on the Upper East Side.
"A guy from Citibank called him for a year telling him to invest in art," Jose's son told the packed house. "Turns out that was Jeffrey Deitch."
Mr. Deitch, who was in the audience, nodded approvingly.
"Did you always know, as a kid, that you wanted this?" Mr. Baer asked. "Were you always on the path to be one of these two princes?"
"It was very difficult working in the family business," Mr. Mugrabi said. "My father, he's not an easy guy!"
Case in point: After those years on Wall Street, Mr. Mugrabi went to graduate school to better understand the currents of modern and contemporary art before he went to work for papa. Papa was not impressed.
"I was able to place art in its historical context—what my father calls 'nonsense,'" he said. "'That's bullshit! You feel it in your gut!' he would say."
Mr. Baer then pivoted the conversation to discuss Stefan Simchowitz, the now-notorious art flipper who incidentally was an early choice to appear in the salon series.
"I said, 'Why don't we get this guy Simchowitz,' and the Art Basel people were like, 'Who?' So I got David. And then, later, they were like, 'Let's get this Simchowitz guy,' and I was like, 'You blew it!'"
"I don't buy art to flip," Mr. Mugrabi said. "No one should. A lot of people, they buy with their ears."
Talk turned to Mr. Mugrabi's methods.
"Do people say to you, 'David, we met in St. Tropez, by that yacht, I want to put $20 million in art'?" Mr. Baer asked.
"Well, yes, but not the St. Tropez part," Mr. Mugrabi said.
"And how do you get your information?"
"My brother! I'm kidding. We're always around, talking to people. There's always a Mugrabi somewhere."
After Baer pressed him lightly on whether or not "Mugrabi" is a brand ("We're not a brand") and whether or not their purchases essentially set the market ("We don't set the market"), the audience was allowed to ask questions.
"How do you feel social media, and start-ups such as Artspace and Artsy, are affecting the market?" asked a tall kid with a surfer dude's flow, who later told us his name is Josh Foulquier, and he's launching an art world start-up called Obra.
"In many cases, you can see more on Instagram than if you're at the fair," Mr. Mugrabi said.
Another attendee asked the inevitable question about whether we're in a bubble that's about to burst.
"I don't know if you were there at 11:00 on Tuesday, but it was a madhouse," Mr. Mugrabi said. "It was as if they were giving the art away for free!"
"That's a question only journalists and economists are interested in," Mr. Baer said.
There was time for one more question, but no one in the audience raised a hand.
"Well, do you have a question for me, David?" Mr. Baer asked.
"I do," he said. "When do we play golf?"
"When do we play golf!" Mr. Baer exclaimed, before pausing for a second. "Sunday."