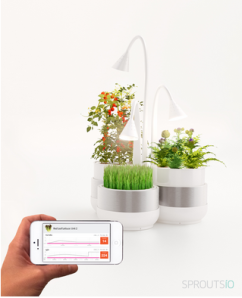 The days of getting down and dirty in the garden are over.
A new indoor food growing system allows users to Face Time with their fruits and veggies and even water them from afar with one click on the app.
The SproutsIO system was developed by students at the MIT Media Lab so even those who live in cramped Willamsburg apartments can have fresh, homegrown produce year round.
"Our hope is that it becomes a new kind of standard," designer Jenny Broutin Farah, a grad student at MIT, told FastCoDesign. "We're not saying people are going to stop going to grocery stores or getting food delivered to their homes, but we're interested in providing people with an alternative."
But the SproutsIO system isn't just a cool tech gadget. It's some pretty advanced gardening as well.
The system uses a soil-free, or aeroponic, growing method to nurture plants with nutrient-rich mist, subsequently using 98 percent less water and 60 percent less fertilizer than traditional growing methods, FastCoDesign reported.
The result: six times greater the yield, allegedly.
SproutsIO is currently in the beta stage and is expected to hit the market in about a year.
We'll give this gadget a green thumbs up.