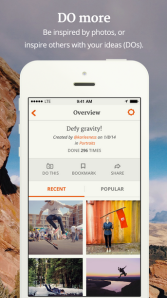 We know what you're thinking — the last thing the app-o-sphere needs is yet another photo or video sharing app fruitlessly trying to compete with Instagram.
That's what we thought, at first, of OKDOTHIS, a photo sharing app that launched today. But the app still intrigued us, because instead of just letting you share your lame, low-quality pics of eggs benedict, it aims to help you improve your creativity and photography skills.
That makes sense, as OKDOTHIS was founded by professional photographer Jeremy Cowart. He was inspired to create the app after looking through the onslaught of photos posted to social media every day, and realizing that people were "recycling the same ideas or photos of others over and over."
"They don't know what to do, what to tell their subjects, or how to shoot in new, interesting ways," Mr. Cowart told Betabeat over email. "So what we're seeing is a seemingly endless loop of selfies, coffee cups and sunsets. People need NEW ideas and new reasons to get off their couch and go create."
On OKDOTHIS, users receive daily inspirational instructions called DOs, like "Epitomize a city on one photograph," or "Doors that you wish could talk." In the process of fulfilling DOs, users also learn stuff about photography, like what tenebrism means ("violent contrasts of light and dark, where darkness dominates the image," apparently.)
If you just feel like browsing, you can also enter search terms and explore each other's photos, kind of like on Pinterest.
"OKDOTHIS's core purpose stems from my original idea to create an infinite pool of ideas that forever kills the problem of creative block," Mr. Cowart said.
After taking their photos, OKDOTHIS users can edit them with a range of "beautiful, film-inspired filters with the ability to adjust tone intensity, exposure, brightness, contrast, and temperature — among other options," according to a press release. It remains to be seen if any of them are as flattering as Instagram's Rise filter.
We can't imagine OKDOTHIS competing with Instagram as the masses' go-to photo sharing app — Instagram is already too deeply entrenched in our way of life — but it seems like a good option for anyone looking to explore new avenues of creativity, and do something a little more intellectually stimulating than tagging a generic poolside pic with #blessed.
Of course, we had to know how Mr. Cowart felt about selfies.
"Haha, it's easy to mock them but at the end of the day, they'll always be the most popular thing to do with a mobile camera," he said. "People will always want to have fun and show their new abs, their new clothes, their new hairstyles, etc. So, I say just embrace it. Selfies certainly aren't going anywhere. In fact, we have an entire 'Selfies' category within OKDOTHIS and it's a blast to see how people are using it."