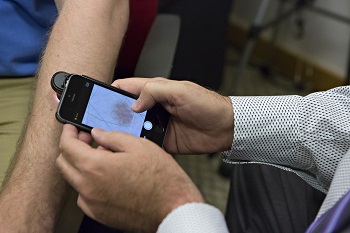 Any time tech enables us to skip a visit to the doctor's office — however dubious the outcome may be — we are happy campers.
So it is with great excitement that we report on a new app that can accurately identify melanoma-affected moles about 85 percent of the time. Called DermoScreen, it was developed by University of Houston engineering technology professor George Zouridakis, PSFK reports.
The app "could provide cheap and effective cancer screenings for millions of people who would not otherwise have access to medical specialists," PSFK says. "The accuracy rate is similar to that of dermatologists."
Now, all we need is an app that somehow deletes offending moles without causing any pain. Can someone get on that?