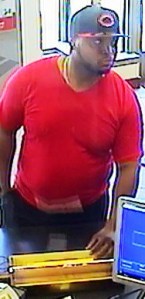 Any jaded New Yorker knows that double decker bus tours have criminally high prices, but it looks like one of their ticket hawkers might actually be a criminal.
One Skyline Sightseeing seller was recently charged with seven counts of robbery and attempted robbery, New York Post reported.
But don't worry, Jamaal Valentine, 34, the alleged robber, might still be as sweet as his surname suggests. Mr. Valentine kindly requested a small donation of just $100 from each bank he hit, via note slipped to the teller.
A law-enforcement source claimed that Mr. Valentine was using the money in a desperate attempt to pay his Bronx landlord a $400 debt.
He never displayed a weapon to back up his demands, and was repeatedly rejected, although he allegedly managed to collect $450 in his three-day affair at Bronx and Manhattan banks.
Mr. Valentine's finger prints were identified on one of the notes, and the ex-con, on parole for earlier bank robbery charges, was arrested Wednesday after police tracked him down by "pinging" his phone.
We sort of empathize though—a Times Square day job would make us crack, too.