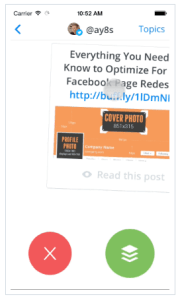 Tinder may be the night, but this swiping app is for your morning coffee.
Buffer, a platform for sharing content and managing social media accounts, released a new app that adopts a Tinder-like approach to make it easy to find and share interesting news items.
The iOS app, Daily, displays headlines from various news outlets one at a time and allows users to read the story then swipe left to pass or right to share on social media.
Users can choose to view any number of the covered topics (marketing, inspiration, design, life hack, and entrepreneurship) or view "best of" for five selected stories from each. Real, live humans, not algorithms, select the 25 stories users see each day.
Buffer is aiming to make reading news fun and quick, and they themselves are even marketing the app as '"Tinder for news." Like the rest of us, they've discovered the game-like joy in swiping and making snap decisions.
"We've found that the card-swiping, one-decision-at-a-time method is a fun (and slightly addictive!) way to consume content," the site stated on its blog.
The appeal of Tinder, however, is no news. Especially since its usage has doubled in Brazil since the start of the World Cup.
It's looking like Tinder and its ways aren't going anywhere too soon.
(h/t Gigamaom)