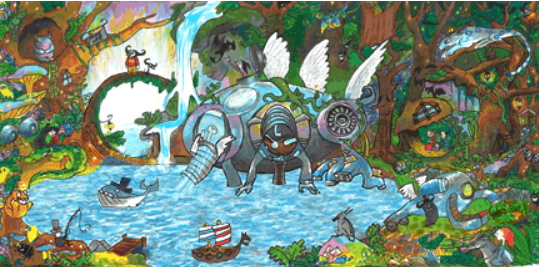 When we opened Google's homepage this morning, we noticed today's Doodle was one of the most colorful and intricate we'd ever seen. Then we learned it was designed by an 11-year-old.
For the past seven years, Google has hosted an annual Doodle 4 Google competition, which asks kids from kindergarden to 12th grade to design an invention that would make the world a better place. This year's winner — chosen from more than 100,000 submissions — was 11-year-old Audrey Zhang from New York.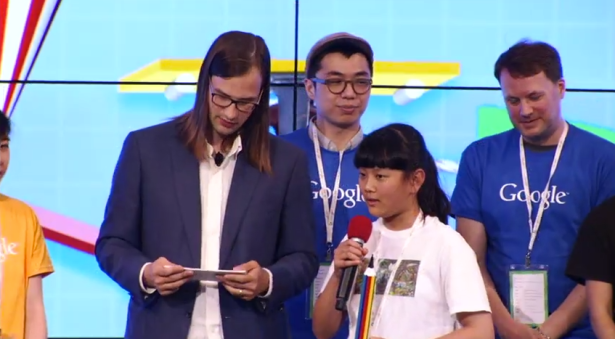 Here's how Ms. Zhang described the invention in her doodle, "Back to Mother Nature":
"To make the world a better place, I invented a transformative water purifier. It takes in dirty and polluted water from rivers, lakes, and even oceans, then massively transforms the water into clean, safe and sanitary water, when humans and animals drink this water, they will live a healthier life."
Uh, let's get that working on the East River, stat.
After the announcement of Ms. Zhang's victory, the talented 11-year-old got to work with Google's staff to animate her original drawing before it was published on the search engine's homepage.
Ms. Zhang also got to take home a $30,000 college scholarship and a $50,000 Google for Education technology grant for her school. In addition, Google made a $20,000 donation in Ms. Zhang's name to charity:water.
Google has also posted the designs of the all the Doodle 4 Google finalists, which are all really lovely and remind us that not all kids are iPad-addicted cyborgs.
Plus, all the kids' talent and general adorable-ness will probably make everyone forget about last week's embarrassing D-Day Doodle screw-up.
[youtube https://www.youtube.com/watch?v=Z080V3YWVDg&w=560&h=315]