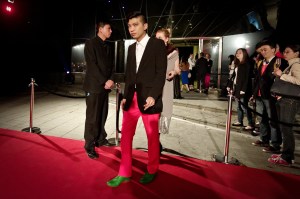 We must be in the wrong profession.
Top style bloggers are earning more than $1 million a year in appearances, promotions and partnerships with corporate brands, according to Women's Wear Daily.
Renowned bloggers, who use monetization companies like rewardStyle, make up to $80,000 a month if they entice readers to click on brands' content.
"I earn almost three times more off my blog than I did in my full-time job as a social media manager," Justin Livingston, founder of Scout Sixteen, a New York-based style, home and travel blog, told the Observer.
Mr. Livingston started the blog without the intention of making money, but now participates in paid promotions and appearances when they sync with the Scout Sixteen brand.
"I love being able to interact with my readers and followers in an environment that promotes conversation. Over the years, I've been able to monetize that passion by aligning with brands or companies that share my love for design," he said.
And the trend isn't limited to desktops. Instagram has played a role in developing what is now an entire profession for many fashionistas. Apps like the newly released LiketoKnow:It, which sends links of featured clothing to users when they "like" a blogger's photo on Instagram, has driven $1 million in sales in the last three months, WWD reported. Moreover, some bloggers are cashing in at as much as $3,000 for sponsored Instagram posts. 
Blogger Jessica Quirk promotes and hosts events for stores like Saks Fifth Avenue and Kate Spade New York for her blog, What I Wore, and also speaks at colleges about professional wear for "a small fee." The blogger, and now author, who left her job as a fashion designer to focus on the blog, charges between "$1500-3500 depending on the needs of the client, deadline, etc." for promotional posts on her site, she told the Observer. 

This influence across all social media platforms has led to brand promoters becoming brands themselves. Take, for instance, Leandra Medine, aka Man Repeller, and her collaboration with Le Marché, or the release of Snob Essentials' HSN purse collection. These bloggers' names draw fans, and with those followers comes buying power.
Mr. Livingston doesn't think this trend should be a surprise.
"I think readers are aware that their favorite bloggers make money off of their blogs," he said.