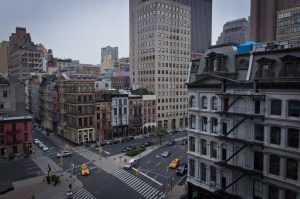 Rent-stabilized apartments in New York City are like diamonds in the rough. But one TriBeCa resident didn't know when she had it good with the apartment she'd rented for 40 years.
Eileen Hickey- Hulme, 67, allegedly turned her rent-stabilized loft at 460 Greenwich St. into an upscale "hotel" according to a lawsuit filed by her landlord, NY Daily News reported.
The edgy artist, who splits her time between Manhattan and East Hampton, sublet her home through the online service Airbnb for $250/night, $1,750/week, or $4,500/month. Just a week's stay would be more than enough to cover the $1,463.79 it costs Ms. Hickey-Hulme to rent her apartment for an entire month.
Sounds like a pretty good deal, right? Except that it's illegal.
The landlord's attorney, Carl Peluso, told the Daily News that state rent laws dictate that tenants must co-occupy their rent-stabilized apartments with subtenants if the renting period is under 30 days. When Ms. Hickey-Hulme's landlord allegedly confronted her about the Airbnb posting in April 2013, she took down the nine-month-old post from the site and ignored eviction notices. Soon, she might have to face reality and retreat to her East Hampton home, possibly also handing over the profits she made from her makeshift hotel.
Sorry tourists, you might have check into a Hilton or Marriot. 460 Greenwich St. is closed for business.