Traveling is fun, but planning a trip can be stressful — especially when it involves hours of scouring TripAdvisor reviews, trying desperately to find a piece of information that's helpful to your particular situation.
That's the problem that travel site Trippy is trying to solve. Founded in 2011, the site relaunched last April as a place where users can post specific questions regarding their upcoming trips, and knowledgeable members of the Trippy community can offer up helpful suggestions.
As a Canadian trying to figure out how ~America~ works, I recently decided to give Trippy a try. I made an account, and asked the Trippy community a question about my upcoming trip to North Carolina's Outer Banks: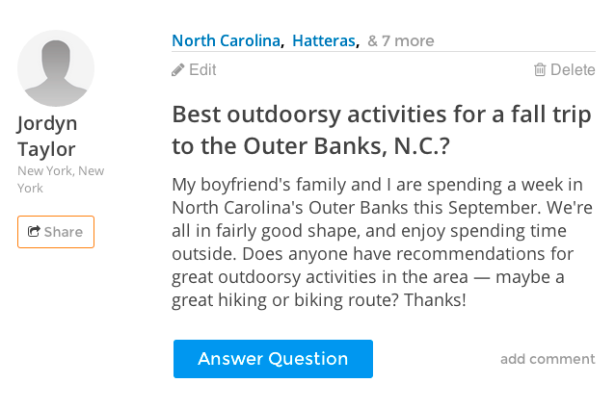 In what seemed like no time at all, a friendly woman from California offered up a delightfully detailed response. Here's a portion of it. As you can see, Trippy allows users to upload photos and tag locations in their posts. It also provides a map to highlight the locations mentioned in the posts.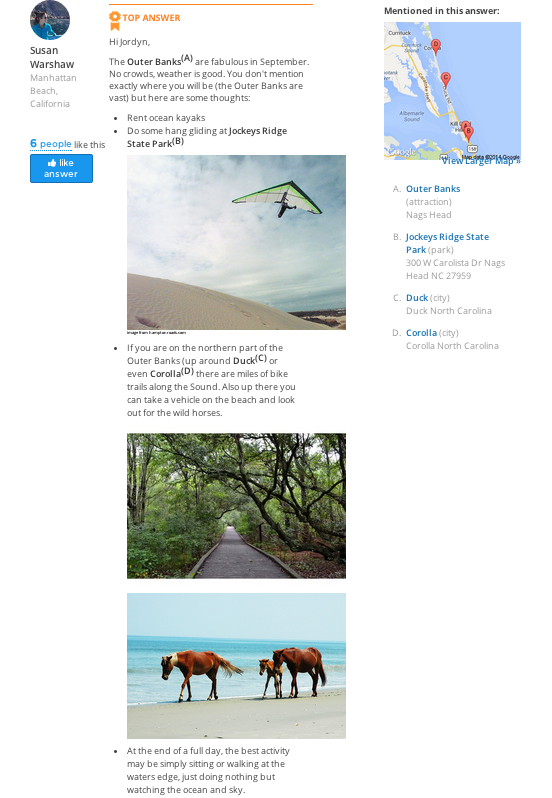 Additionally, Trippy knows that I live in New York and grew up in Toronto, and sends me notifications when other Trippy users are seeking information about those particular locations. I get the sense that the Trippy community is really positive and helpful, unlike some other Internet communities we're aware of.
When it comes to travel sites, Trippy founder and CEO J.R. Johnson is an old pro. In 1999 he cofounded VirtualTourist, which was acquired by Expedia in 2008 for a casual $85 million.
After the acquisition, VirtualTourist's other cofounder moved to the Philippines to live happily ever after, but Mr. Johnson wanted to continue working in the travel space. After waiting out a three-year non-compete that prevented him from developing anything else travel-related, he debuted a new site, Trippy, at 2011's TechCrunch Disrupt.
In Trippy's first iteration, users would input an upcoming travel destination, and the site would scan their social graphs to highlight friends and followers who'd lived, worked or gone to school in that location.
"It worked really well, but it wasn't growing fast enough," Mr. Johnson told Betabeat.
So this past April, Trippy relaunched with its new Q&A model. Mr. Johnson said it's much more efficient than milling through thousands of reviews on TripAdvisor, hoping to come across something remotely useful.
"When you write a review, you're just sharing your perspective — you're looking through one lens, and that's your own," he said. "That puts a lot of burden on the person who's reading that review. They're forced to figure out how similar you are. The review has very little context other than what the person who wrote it is thinking."
On Trippy, however, Mr. Johnson said, "I can ask specific questions, and get great answers back based on [my] needs."
But why would anyone feel compelled to answer someone else's question, we asked. Aren't People of the Internet inherently selfish beings?
"Travel geeks like me, we really enjoy being helpful," he said. "If we can hook somebody else up and [make] their trip a little bit better, that's awesome. We really love that stuff."
Like anyone who's ever pitched a startup at TechCrunch Disrupt, Mr. Johnson believes Trippy is making the world a better place — for those who are fortunate enough to be able to travel, at least.
"The more we go out and see the world [and] experience cultures and people, the more informed we become, and the more passionate and tolerant and understanding," he said. "If there was some way we could get more people traveling… We would all be better off."