Are you a family man looking to move from Bergen County to Brooklyn? Are you perhaps frustrated by the lack of inventory in the borough's most sought-after brownstone neighborhoods? Have you yet to find just the right $3 million townhouse shell to put through the wringer of gut renovation? Let's face it. You need a rental in the area to use as a home base as you lie in wait. And you have live-in help, of course. Because, well, who doesn't? You'll want suitable staff quarters. And you'll need a charging station for your electric car. (Because of the environment, and, you know, society.) Matter of fact, while we're at it, better make these interim digs a "passive house," with high-efficiency circulation, cooling and heating systems (major bragging rights at the Waldorf School your children will no doubt be attending!). Well, friend, you are in luck, 107 Union Street in the Columbia Waterfront District, newly-completed and listed with Christina Fallon of Realty Collective, is just the thing. 
How's the rent, you say? Admittedly, at $15,000 a month, it's a bit steep. But please consider that perhaps the only comparable nearby rental, a penthouse at 29 Tiffany Place, asks the same price and offers some 2,200 fewer square feet. Further still, Ms. Fallon told the Observer, the Union Street home "is really unlike anything else that anyone has built in this neighborhood. Because it's wide, and because it's new construction, there's nothing about this house that feels like a brownstone."
This, of course, will not endear the property to all shoppers, but its design offers large bedrooms, vast closet space and an elevator—features oft-difficult to come by in landmark-worthy real estate. "This house understands modern living in a way that a house that was built 140 years ago does not," Ms. Fallon confirmed.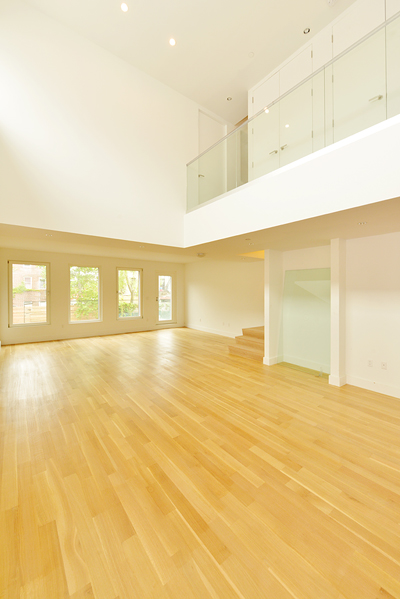 The home's departure from brownstones of old is apparent at a glance, its south-facing facade done in louvered steel, which, Ms. Fallon said, will allow winter sunlight directly into the house, while offering the option of shade during summer months. The interiors are all white oak and luxury fixtures, big, bright open spaces fed by "soaring" windows.
Configured as a four-bedroom triplex, with an additional studio below, 107 Union features a double-height living and dining space overlooked by a mezzanine that also enjoys views of neighborhood graffiti, in case, Ms. Fallon suggested, you ever "want to remind yourself that you're in New York." More conventionally-desirable views are available, too, most notably from the roof, which offers a 360-degree panorama, extending from the Verrazano Bridge to downtown Manhattan.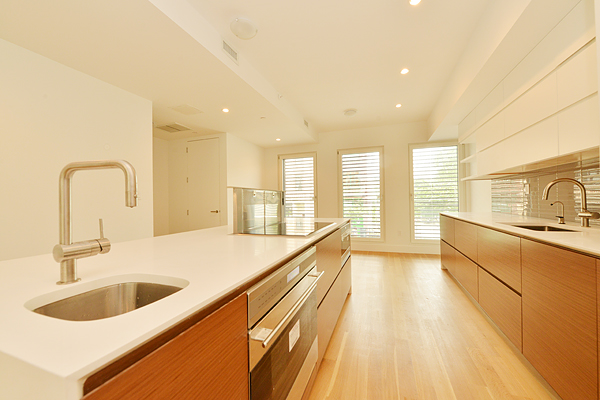 Sohne Brothers, the developers responsible for the house, have worked extensively on the Columbia Waterfront, bringing to market buildings at 138 Sackett Street, 140 Degraw Street, 60 Tiffany Place, and elsewhere. They have lately devoted attention to Red Hook.
"One of the things I like about these developers is that the Columbia Waterfront was considered sort of a remnant neighborhood by a lot of people for a long time," Ms. Fallon said. "But they have never stinted on their work there. They have never treated it like it's the stepchild of Cobble Hill—like just because it's on the other side of the BQE that it doesn't deserve the same kind of attention."
All of which is to say that if you're in the market for something more like, say, a $1,000 a-month studio rental and you find yourself priced out of the neighborhood, you will have, at least in part, Sohne Brothers to thank.