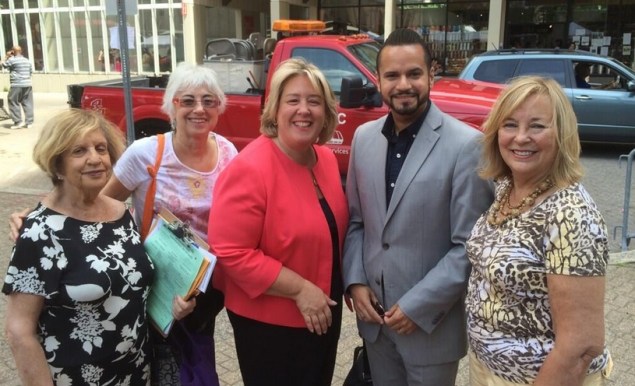 These Upper East Side pols see that she's just right.
Councilman Ben Kallos, State Senator Liz Krueger and State Senator José Serrano Jr. have endorsed Manhattan assembly contender Rebecca Seawright, cementing the attorney's establishment support in the Upper East Side race.
"Rebecca Seawright will be an effective partner who will deliver for our community in Albany, and I know she will be a strong voice for robust campaign finance and ethics reforms, so we can finally build the kind of government New Yorkers deserve," Ms. Kreuger said in a statement to the Observer.
Ms. Seawright is locked in an open primary against several Democrats. All of the candidates are vying to replace Assemblyman Micah Kellner, who is not seeking re-election after being hit with sexual harassment allegations last year (Mr. Kellner denies the charges.)
Ms. Seawright, a first-time candidate, has emerged as a front-runner after much of the Manhattan Democratic establishment coalesced around her candidacy. Manhattan Borough President Gale Brewer, Comptroller and Ex-Manhattan Borough President Scott Stringer and Councilman Dan Garodnick already backed Ms. Seawright.
Mr. Kallos, a freshman lawmaker, cited Ms. Seawright's opposition to the unpopular placement of a marine transfer station on the Upper East Side. Every other candidate in the race–David Menegon, Gus Christensen and Ed Hartzog–also opposes the construction of the station.
"Rebecca understands the problems we face with the MTS [marine transfer station] because she has lived them," Mr. Kallos said. "Her children played on the ball fields at Asphalt Green. I look forward to rallying with her against the dump and fighting for new solutions that don't put our kids in danger."
Mr. Serrano said Ms. Seawright would be committed to battling for liberal priorities in Albany, like raising the minimum wage and supporting tuition assistance for undocumented immigrants.
"Rebecca will bring much-needed energy and reform to Albany," Mr. Serrano said. "Rebecca has demonstrated that she is committed to progressive priorities, such as raising the minimum wage for working families, supporting the NY Dream Act and full passage of the Women's Equality Agenda. I am proud to stand by her side."