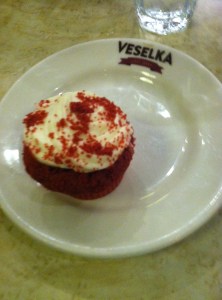 When Veselka—the East Village's premier 24-hour Ukrainian diner—opened in 1954, nothing on the menu exceeded $1.60.
Bigos and Mashed Potatoes, the Ukrainian specialty that topped the bill as 1954's priciest item, will be reduced to that price once again for a limited time. To celebrate 60 years of business, Veselka will be dropping the prices to those of the days when they first opened. For the Bigos, which is normally priced at $15.75, that's a nostalgia-worthy steal.
The deal has been announced, but it hasn't been revealed exactly when the discounted prices will take effect. Those who wish to take advantage of the cheap food will have to be on top of Veselka's social media accounts like cheese on a blintze (a Ukrainian classic going for a buck a piece during the sale). Another twist is that once the discount is announced, it will only last for 54 minutes.
Very sneaky, Veselka.
Keep your eye on Veselka here, there and over here, too.