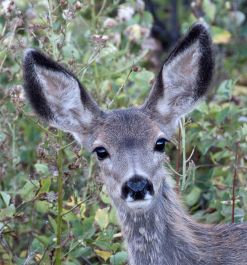 We're no strangers to the incurable need for a morning espresso. Although most of us passively sulk at the end of the line at Starbucks instead of making an entrance like this deer did.
Yesterday morning, one upstate woodland creature couldn't wait her turn as she unapologetically smashed through the glass doorof Kingston's Hudson Coffee Traders.
Jenna Shaffer said at first no one knew what had happened when the doe made its surprise appearance. "We were all kind of in shock at first," she told the Observer, "but I was really scared for her once I realized that it was a deer that crashed through the door."
The two baristas working were able to keep the doe contained within the store until the police came to return her safely to the wild. Shaffer added that she has no idea what prompted the deer to make a crash landing into their coffee shop, save for one theory:
"We keep saying, 'Our coffee is good enough for the wildlife,'" she joked.
[youtube https://www.youtube.com/watch?v=iUTnYY9y8pA&w=560&h=315]