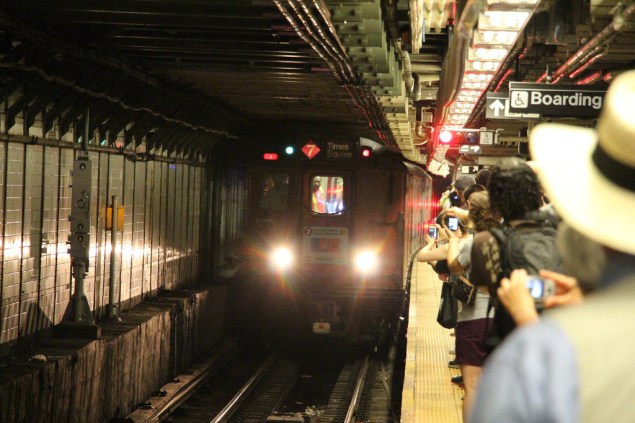 Vintage trains glided down the city's tracks this weekend in a throwback so rad, it couldn't even wait until Thursday.
To celebrate both the return of weekend M-line service and the 1964 World's Fair, the MTA and NYCT ran nostalgia rides on vintage subway cars. R1/9 cars ran along the M track between Metropolitan Av in Queens to Delancey St/Essex St in Manhattan, and R36 cars ran on the 7 line from Times Square to Flushing Meadows, Queens.
The 1930s-era R1/9 (known as the Arnines back in the day) made a special appearance on Saturday on the M track that hasn't seen Saturday service since 1958 or Sunday service since 1933. The additional weekend service was made possible by an $8 million allocation from the MTA announced last year by Gov. Andrew Cuomo.
Sunday kicked off the New York Transit Museum's summer season of nostalgia rides in a big way. The R36, which was built specifically for the World's Fair in 1964 by the St. Louis Car Company, made its fully-restored comeback to commemorate the fair's 50th anniversary. Known as the Redbirds, the R36 car is so vintage that train fare was only 15 cents when they ran the tracks.
The next Transit Museum nostalgia ride will feature the Arnines once again, but this time they'll be transporting passengers to Coney Island.
The video below features cool footage from Saturday's M-line ride.
[youtube https://www.youtube.com/watch?v=fXwCtkxpnCs&w=560&h=315]