A couple Tuesdays ago, I morphed into a Himalayan god. An hour prior, I had walked through the glass doors of the Rubin Museum of Art in Chelsea with my eyes open and my arms cradling my notebook. But there I was, standing in front of a thousand year old statue, curving my right arm over my head, mimicking the art with my eyes closed.
It happened again this past Wednesday. I became a mid-20th century body mask from Papua New Guinea. My shoulders drooped and my arms were made from rough strips of bark. But again, I couldn't see the piece I stood directly in front of, this time at the Metropolitan Museum of Art on the Upper East Side.
My tour guides, Lyndsey Anderson, manager of Visitor Experience and Access Programs at the Rubin Museum, and Pamela Lawton, a contractual educator at the Met, were giving me a taste of what it is like to experience art as a visually impaired person (VIP).
Although I'd never seen either of these pieces of art, I sensed their beauty. This wasn't because Ms. Anderson or Ms. Lawton told me so, it was because they described each part to me; letting me hold a tiny replica of the god, feel the dipped crevices between its little fingers; or prompting me to imagine the crinkly sound the mask would make if I were to run in it. Most importantly, it was because they showed me how it felt to position myself to become these artworks.
Accessibility programs at museums throughout New York City are enabling VIPs of various levels of vision to touch, smell, draw, hear and become timeless pieces of art with the help of evolving methods and technology. At these museums, visual art, even two-dimensional paintings, are not privileges reserved for the sighted.
"I think there is a general feeling from the cultural institutions in our city that they want to really include everybody," said Elisabeth Axel, president and founder of Art Beyond Sight, an organization that advocates for accessibility education and programs through art. "I think New York is ahead of its timeline [over] other cities," she added.
"Art is a way of understanding the diversity of vision," Rebecca McGinnis, museum educator of Access and Community Programs at the Met asserted. Ms. McGinnis herself was legally blind when she was younger, and, although her vision has improved, she believes art was what initially allowed her to see through other people's eyes. "How do you learn about how other people see? How do you do that? You learn that by looking at art," Ms. McGinnis said, emphasizing that even the sighted rely on art for this purpose.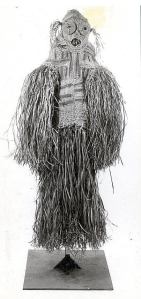 For VIPs, seeing means experiencing through alternate senses.
"Sometimes when I actually touch a picture, I can feel the different textures of the colors," Tasha Chemel, 28, a Vermont-based artist and writer who has been totally blind since birth, told me in a phone interview.
Other times, it means experiencing art through other people.
"It's sort of about trusting," Emilie Gossiaux, 24, explained as we sat with her guide dog in an office at the Met. Ms. Gossiaux is a recent graduate of the Fine Arts program at Cooper Union and an intern at the Met working on audio guides for VIPs. She lost her vision in 2010 after being hit by an 18-wheeler, but never lost her passion for art. "I think the biggest change was from relying on my vision to [relying on] other people or senses. It's mostly about trusting, or listening to my gut feeling and trusting other people," Ms. Gossiaux said.
This places a large responsibility on the educators and guides who lead tours for VIPs. These guides use a variety of techniques to convey the art to their audience — elaborate verbal descriptions, tactile objects, or even sachets of incense used in the places where these artworks originated. Some museums, like the Museum of Modern Art, have had their conservation staffs identify objects that can be touched directly with thin gloves. But when this is not an option, educators must find a way to best simulate the art.
"If we could touch it, how would it feel?" Ms. Lawton asked our group of four interns — all sighted except for Ms. Gossiaux — Ms. McGinnis and myself. She was referring to the rough bark strips, then noted that she was going to bring a similar material for us to touch, but decided it wasn't an accurate enough representation.
"Dry," was the resounding answer.
We moved on to a Picasso, "Dora Maar in an Armchair," and sat down on our foldable canvas stools with our large wooden clipboards on our laps. Ms. Lawton described the painting to us with our eyes closed as we drew on the white easel paper with crayons, charcoal pencils and artists' sticks.
I pictured the painting in my head and drew a circle near the middle of the page (or so I estimated with my fingers) for Dora Maar's head. Ms. Lawton described the three diamond eyes on her face, the oddly shaped nose and ears, and what sounded like a 60s style hairdo with the ends curling out and up. I drew an upholstered armchair behind her and the striped wallpaper, trying not to overlap Dora Maar with the lines.
I opened my eyes and saw Dora Maar's facial features resting near her lap, like pieces removed from a Mr. Potato Head doll. I looked over at Ms. Gossiaux's drawing and saw her carefully tracing the waxy crayon lines with her index finger with much more success than I had achieved. How did she do it?
"A lot of people say my art hasn't changed that much," Ms. Gossiaux told me after the Potato Head incident. She explained that her art has always been very textured and tactile, although now she tends to do more sculptures than drawing. "When I make art now, I feel like it's a lot more about my body and the relationship of my body to my work."
This explains why accessibility educators often opt to discuss art that involves the human figure, so that visitors can create a mental image of the piece based on their knowledge of their own bodies. Francesca Rosenberg, director of Community and Access Programs in the Department of Education at the MoMA, said they often lead tours based entirely around the body, working from the most straightforward pieces to the more abstract.
"I am discovering new features of my face that I didn't know before," Ms. Gossiaux commented as we drew our self-portraits later on in front of a Rembrandt. "It gives me a lot of freedom."
Freedom is something that accessibility educators seek to make possible for their visually impaired visitors. More and more have incorporated audio guides geared specifically for VIPs, and the Guggenheim Museum of Art has even taken this one step further, developing an app that can be downloaded on a smart phone. But beyond the technology, the museum has incorporated a unique method of verbal description in their Mind's Eye tours where visitors play a large role in the description.
"We all see differently whether we have a visual disability or not," Georgia Krantz, the senior education manager of Adult and Access Programs, Education at the Guggenheim, said. Ms. Krantz wrote an article for Disabilities Studies Quarterly on her method of guiding tours. "My feeling is that with my group, I sort of take my set of eyes on the picture and every other person as an equal set of eyes on the picture. I tell them what I'm seeing and then ask them to fill in the rest."
"We see through our brains, not our eyes," Ms. Krantz added.
This might explain why educators and visitors alike stressed the importance of being in the presence of art rather than listening to a recording at home.
"The fact that people are willing to travel to be near pieces without being able to see visually proves there are other aspects to the experience that go beyond the visual," Danielle Linzer, manager of Access and Community Programs at the Whitney Museum of American Art explained.
When I talked on the phone with Ahmet Ustunel, 34, a California-based blind artist who sells his work on his site, Blind Art Gallery, it finally resonated why it is so outrageous to think that art cannot be experienced without sight.
"You cannot touch or feel certain things, but you still know how they look," he said. "You can't touch the sun, but you can still feel the warmth."