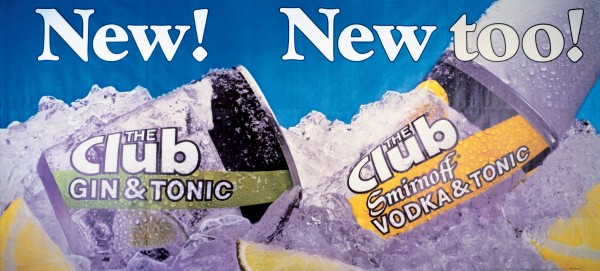 Jeff Koons has won. He has ruthlessly outperformed rivals, made sacrifices few would have dared to consider, and gone all-in on risky bets, aesthetic and financial (not that they're always distinguishable), that have paid out gargantuan returns. Now 59, he is both the reigning artist-king of our time and, thanks to his strategic self-deprecation, which sugarcoats even his most sinister works, its proud court jester. The Whitney has given Mr. Koons his palace, and its retrospective, which opens Friday, has all the precise pomp of a coronation ceremony. It affords a rare chance to bask in Mr. Koons's benevolent, terrifying, goofy and always-immaculate aura, and, of course, to bow down, the response that he prizes above all others.
Despite stretching across five floors of the museum, from the basement on up, the show is eminently manageable. Almost all of the hits are here, and they have room to breathe. They're arranged by series, chronologically, so the effect is of walking through a series of exquisite commercial gallery shows. To see Mr. Koons' work this way is to see him in his natural habitat, continually raising his ambitions, always with his eyes fixed on the market. The Whitney's associate director, Scott Rothkopf, who organized the show and who clearly relishes his role as royal apologist ("Koons doesn't dream of making money; he dreams of making artworks," he writes in the catalogue), has let him sing.
The Jeff Koons story is an all-American one. It's not quite Horatio Alger, but it's pretty close. He was born in York, Pa., in 1955, to a furniture seller and a seamstress, attended art school in Chicago, and then hitchhiked to New York in 1976, ready to make it big. In retrospect, he started out small. Early works pair small mirrors with inflatable toys, sponges and a telephone, which, amazingly, set up many of the themes and subjects he would fluff into grand-scale weirdness over the next four decades.
The retrospective's first magnificent mise-en-scène comes with "The New," Koons' early 1980s Plexiglas boxes with vacuum cleaners and fluorescent lights, positioned in rows in a dimly lit gallery so that it becomes a sepulchral temple crossed with an appliance store and a sci-fi laboratory. Mr. Koons took Duchamp's readymade and lewdly perverted it: he anthropomorphized and fetishized the curves of these industrial devices, rendering consumerism into something deeply libidinous. He found the death drive in the Hoover Convertible.
Even as he began to sell himself to the world as an artist, Mr. Koons was putting in his time as an actual salesman, pushing MoMA memberships, then stocks and commodities. One suspects that the motive for taking those particular jobs wasn't entirely financial: they completed the sunny workaday narrative he was crafting.
In the mid-1980s, he went on an artistic tear, suspending basketballs in aquariums, sending them into galleries, along with a bronze aqualung and a boat—buoyant devices that will sink you. Like any truly great new art, these juggled precedents (the readymade again, Minimalism) and deployed them in unexpected, intoxicating ways. And like a lot of great new art, it shouldn't have worked, but it did. Even his 2-D pieces from this era, typically his Achilles heel, remain showstoppers—Nike posters and liquor ads that he respectively framed and enlarged, laying bare all of their exploitative, sexist undertones.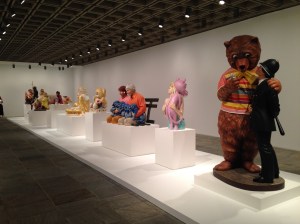 He also gleefully had tchotchkes and drinking ware fabricated in stainless steel, then wood and porcelain statues. Even if one of their oh-so-naughty projects, of collapsing high and low, now looks quaint, the utter, gross oddity of these things cannot be understated. They give me goosebumps, particularly the large porcelain Michael Jackson and Bubbles (1988), which prompted Mr. Koons' cringe-inducing celebration of Jackson's skin whitening as a ploy to attract a white middle-class audience: "That's radicality. That's abstraction."
In his own art, Mr. Koons at first did the opposite of compromise and assimilate. He posed with Italian porn-star politician Ilona Staller for action-packed porn shots that he had printed as oil paintings of hilariously poor quality. He wanted people to accept their sexual desires, he's said. They're so awesomely appalling that I'm tempted to see them as deliberate misfires, calculated efforts to project ingenuousness, to wipe the slate clean. Mr. Koons and his leading lady married, then split, and the Koons we know today slowly emerged—the one who drained his work of all political content and aimed for ubiquity and total domination by championing anodyne pleasures (cake! cats! toys!), the one who drives people nuts.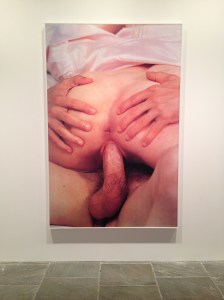 The current Koons wears tight suits and speaks in a thrilled whisper. He wants to be your Norman Rockwell, your life coach and your gym buddy. He loves childhood, and sex. He has been churning out some of the most incredible sculptures in the history of art—the balloon animals, which harbor sexual jokes; huge pool toys (lobsters, doggies) that look like inflatable plastic but are actually aluminum; shimmering copies of ancient sculptures in metal and plaster, festooned with flower pots and blue gazing balls. What he says about any of these works is invariably elaborate and meaningless, but the actual works are joys to spend a few minutes with. They're incomparable rollercoasters for the eye, though his newest sculptures, especially those in his ingeniously fabricated "Antiquity" series, lack the perfect, dark symbolic force of his best work. The current Koons has also made some work that is truly awful, like pointless shaped mirrors and perfect copies of historical artifacts, like the Liberty Bell, that seem chiefly about mindlessly marshaling labor and move you to pity his army of studio assistants.
Like the class of collectors who buy his work, Mr. Koons had to be bailed out once, in the late 1990s, when production for his sculptures ran way over budget (again, an all-American story), and I like to think of his career as one colossal artistic gamble on the wealthy growing ever wealthier. It's worked out pretty well for him.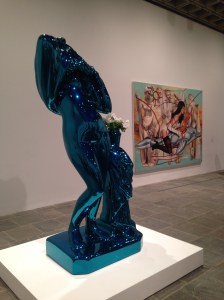 But the truth is that the artist who has long savored newness is becoming outmoded. The ground is shifting beneath his feet. Today's most interesting artists are making objects that are incisive, scrappy, ephemeral, deliriously in flux and engaged, everything to which Mr. Koons' work is opposed. Over in Brooklyn, Kara Walker has trenchantly used Koonsians tactics for very un-Koonsian ends. The master's blasé, repulsively apolitical worldview—"I believe in not making judgments," he quipped recently—has afforded him massive success, but it and the objects it has birthed increasingly look callously out of touch. "Jeff Koons: A Retrospective" confirms what we have long known: he is the most potent and inventive artist of this mad, frothy era. It also gives me faith that, however slowly, that era will come to an end.
(Through Oct. 19, 2014)