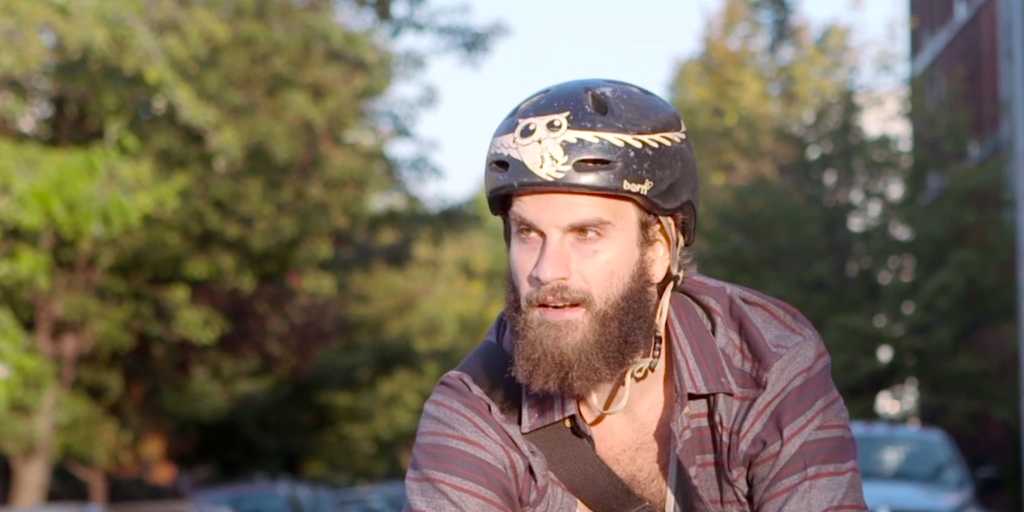 For awhile now, we've been hearing rumors that Ben Sinclair and Katja Blichfeld's amazing web series, High Maintenance, would be making the jump to TV. We couldn't have picked a better show to make it to air–the married couple's collaboration on a show about a weed dealer (played by Sinclair) isn't your traditional pothead comedy, but aimed at a sharper, more melancholic GIRLS set. (High Anxiety would also be a good name for this show, but that was already a Mel Brooks movie, right?)
Between Emily Nussbaum's rave review of the web show in this week's New Yorker and the news that High Maintenance would now be funded by Vimeo as the service's first foray into digital content means that there is no better time to turn down the lights, toke up, and catch all the episodes.
Stevie: We're introduced to the guy, who delivers his wares on bicycle. He meets a personal assistant of some sort, in town from Los Angeles. Her boss wants weed. She needs a Klonopin. "Funny story," says the guy. "Stevie Knicks described Klonopin withdrawal like getting pushed into hell."
[vimeo 52443205 w=500 h=281]
Heidi:Greta Lee (Soojin from GIRLS) is a manic pixie dream girl a little too good to be true.
[vimeo 53044579 w=500 h=281]
Jamie: Hippies try to find a humane way to get rid of a mouse.
[vimeo 53044580 w=500 h=281]
Olivia: My personal favorite, because everyone knows these two terrible hipsters.
[vimeo 56893066 w=500 h=281]
Helen: A discussion of Helen Hunt's early work, in a sad situation.
[vimeo 56894566 w=500 h=281]
Trixie: AirB&B is stressful.
[vimeo 56895025 w=500 h=281]
Dinah: A love triangle with unexpected consequences.
[vimeo 59859181 w=500 h=281]
Jonathan: Hannibal Buress is a stand-up comic facing reality.
[vimeo 64447340 w=500 h=281]
Elijah: A sedar, an asexual, and dueling handjobs.
[vimeo 64447341 w=500 h=281]
Brad Pitts: This is the really sad one about a bird-watcher.
[vimeo 64447342 w=500 h=281]
Qasim: Life-hacking as religion.
[vimeo 79948720 w=500 h=281]
Matilda: The guy's niece comes to visit.
[vimeo 85795925 w=500 h=281]
Rachel: There are lot of poignant moments in this tender story of a young father grappling with his masculinity, but the best line is the opener: "Holy shit, K-Pax just killed Corey Stoll and made it look like a suicide!"
[vimeo 90011431 w=500 h=281]