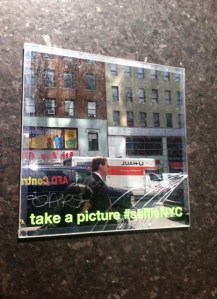 So this exists.
Betabeat stumbled upon this #SelfieNYC mirror outside of Shake Shack on 8th Avenue near West 44th Street this morning.
We're not sure where this came from or if there are any more around, but the #SelfieNYC Tumblr, Facebook and Twitter pages are already bringing city selfies to life.
We're sure the touristy location of the mirror will increase the city's selfie rates. But wait, mirrors are not necessary for this kind of photograph?! Perhaps watching yourself take one is even more satisfying — the extreme form of vanity.
We're wondering how many of these will pop up and contribute to #selfienation.