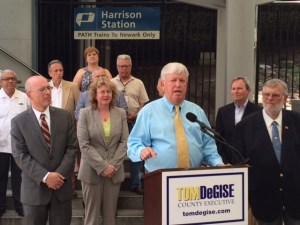 HARRISON – Hudson County Executive Tom DeGise struggled to be heard over the din of passing cement trucks and PATH trains as he spoke at a press conference on Tuesday near the entrance of a parking garage adjacent to the Harrison train station. But what DeGise, who is seeking re-election in 2015, heard was not a cacophony, but a symphony.
"We're having a bit of a hard time being heard here today because of all of the background noise. But you know what I hear when I hear that – I hear jobs for people who are working," said DeGise, 63, flanked by the mayors of the West Hudson municipalities of Harrison, East Newark and Kearny who came out to endorse DeGise's re-election bid. "I see revenues being generated for the county and for of all the municipalities here when I hear that noise."
Kearny Mayor Alberto Santos noted one of the darker chapters in the often-shady history of Hudson County politics when he voiced his support for DeGise.
"I've been mayor since 2000, and the county went through a very dark time in 2001," said Santos, referring to the sudden resignation that year of then-Hudson County Executive Robert Janiszewski, who plead guilty in 2002 to accepting bribes. DeGise became county executive when he won a special November 2002 election following Janiszewski's downfall. "This county executive has brought back integrity to that office. He operates at the highest level of ethical standards. He demands excellence from those he works with. I trust Tom DeGise. He's the right person for the right office. He was worked with all 12 [Hudson County] mayors, and he works with integrity and dedication every day."
DeGise, a Democrat, has already received the endorsement of two mayors who are Hudson County Democratic political heavyweights: North Bergen Mayor Nick Sacco and Union City Mayor Brian Stack. DeGise told PolitickerNJ.com that he is confident that he will ultimately receive the backing of the political leader of Hudson County's largest municipality, Jersey City Mayor Steve Fulop.
"Jersey City is my hometown. I'll let Steven do his own talking on that," DeGise said. "I'll just say that I enjoy a very good relationship with [Fulop] and have since he was a councilman [after Fulop's 2005 election]," DeGise said.
Fulop reached out to PolitickerNJ.com via email to offer his take on the Hudson County Executive's race.
"My position for the Hudson County Executive race is very simple. If Bill O'Dea chooses to run, I will be in full support of Bill O'Dea, and we will do our best to organize on his behalf," Fulop wrote in an email. "Bill O'Dea has been a champion for working families and I know many leaders of labor would support Bill as well. Right now, for many people, it is a Bill O'Dea decision."
The Hudson County Executive election will be decided 17 months from now in November 2015. Some prominent local political such as Hudson County Freeholder Bill O'Dea have been bandied as potential primary challengers for DeGise in the June 2015 Democratic primary. While some might think that DeGise's drive for re-election is off to an overly-early start, DeGise told PolitickerNJ.com that for him, there is no time like the present.
"You pray for peace, and you prepare for war," DeGise said. "I've been doing this a long time. This is a preparation for war."