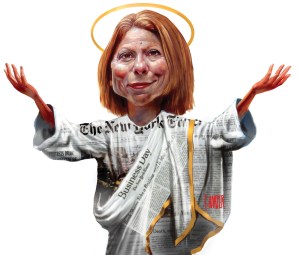 When Jill Abramson was abruptly fired from the top spot on the New York Times masthead last month, the media came out in full force to cover every aspect of her dismissal, including the pressing question of whether she will remove her "T" Times logo tattoo (she's keeping it, by the way).
But it looks as if it's her other tattoo — an "H" for her alma mater Harvard — that is now making the news, as it was announced yesterday that she will teach an undergraduate course in narrative nonfiction journalism as a visiting lecturer there this fall.
"I'm honored and excited to be teaching at Harvard in the coming academic year," Ms. Abramson said in a Harvard press release. "Narrative non-fiction journalism is more important than ever. Its traditions and how it is changing in the digital transition are fascinating areas of study."
But what do Harvard students think about their new professor?
Most are excited, seizing the opportunity to bask in the light of journalistic greatness as the classic Harvard student would.
"I think it's fantastic that Harvard students will have the opportunity to learn from someone with so much experience and insight," Sarah Rosenthal, a rising senior majoring in History of Art and Architecture and arts editor of the Harvard Independent — a position held by Ms. Abramson when she was an undergrad, wrote in an email to the Observer.
"This is a tremendous chance for students in the process of developing their voices to have the guidance of an expert on how writing functions within our society and shapes all knowledge," Ms. Rosenthal continued, adding that her Facebook newsfeed was buzzing with excitement over the news — particularly from female students.
Cordelia Mendez, a rising senior majoring in history, plans on trying to get into the class.
"The creative writing classes at Harvard are notoriously difficult to get into, and I'm sure this one will have a pretty elevated demand," she said. Enrollment for the class, which will be open to both graduate students and undergrads, will be capped at 12 students.
"Public figures who have a career turn often end up lecturing at colleges, which is nice to see because they have a different perspective from tenured academics," Ms. Mendez added.
"Ms. Abramson made a number of positive changes editorially to the New York Times," Caroline Breinin, a rising senior majoring in History and African Studies, wrote in an email. "It is definitely an exciting opportunity for the students that she will be teaching in the fall,"
Others care a bit more about the celebrity aspect, the interest in names expected at a place like Harvard.
"Its just a generally positive reaction that someone this famous is coming," Joe Hall, a rising junior majoring in economics said. "I don't know much about her… just that she was in the news. She got fired, and then there was something about equal pay for women…"
And then there are those who are too busy building the next Facebook or something.
"The name sounds familiar … who is she again?" said Tommy, a rising senior majoring in computer science.