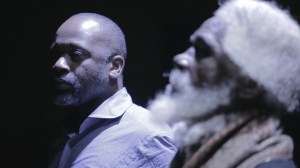 This powerful group show features the work of several generations of African-American artists on the theme of the American South and visionary experience. Curated by Studio Museum assistant curator Thomas J. Lax, it provides viewers with precisely what the recently closed Whitney Biennial failed to deliver: a strong sense that something of interest is going on in American art.
"When the Stars Begin to Fall: Imagination and the American South" features a number of rising-star artists whose names you might not have known two years ago yet whose work now feels ubiquitous: Theaster Gates contributes a video of men singing gospel in the Eldorado Ballroom at Houston's Project Row Houses—this piece is tiny compared with the large-scale social sculpture he has created out of homes in Chicago. Jacolby Satterwhite's wonderful installation places drawings by his mother against a background of futuristic digital wallpaper, and Lonnie Holley's sculpture, composed of assembled found objects, resembles a man slumping against the gallery wall and onto the floor.
The show also includes work by some of the most important artists working today: David Hammons contributes five bricolage bottles; Kara Walker, whose enormous piece at the Domino Sugar Factory is the art event of the summer, presents a video of her signature silhouette cutouts. Carrie Mae Weems contributes photos and, in a separate show in the basement of the museum, a series of pictures in which she stands wearing a long, black dress, her back to various famous museums.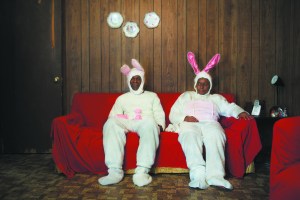 And discoveries abound. I enjoyed choreographer Ralph Lemon's staged photos of bored-looking performers wearing portions of animal costumes and posing in front of ramshackle suburban walls. Also thrilling are Beverly Buchanan's tiny structures that stage a dilapidated village. A video work by one of the youngest artists in the show, Geo Wyeth (b. 1984), is rambling but ambitious. A slide show of an outdoor desert art museum in the Mojave Desert in Joshua Tree, Calif., cofounded by Noah Purifoy (b. 1917–2004), was a revelation.
Among artistic mediums, video, sculpture and bricolage predominate here. Found material works—which combine the ethos of DIY and Situationist détournement—vastly outnumber oil paintings, and despite the inclusion of certain high-profile figures, the 35 artists here, taken together, feel altogether more outsider than insider. The aesthetic is folk rather than MFA program, the themes narrative rather than abstract. Many pieces deal explicitly with religious myths, and some were made for a religious context. Conversations between materials and between generations make for satisfying visual and thematic connections.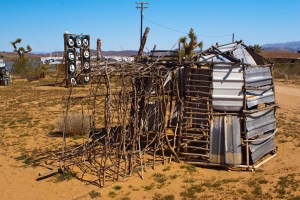 "When the Stars Begin to Fall" stages a coherent conversation among several generations of black artists. It hits all its marks, putting on display intelligent works by both well-known and lesser-known artists. The only thing one might wish for is that the curator and the artists had a bigger stage. As it is, the show is cramped and indifferently lit. It is worth noting that the Museum of Modern Art recently hired Mr. Lax as a curator in its department of media and performance art. His future exhibitions will take place in bigger, brighter spaces and reach a broader audience—as they should. Now if only the Whitney, as our premier museum of American art, could realize that they, too, need a curator whose programming scope reflected the incredible diversity of American culture.
(Through June 29, 2014)
Update, 12 p.m.: An earlier version of this post misstated the location of Theaster Gates' film and the site of Noah Purifoy's desert museum. It also incorrectly identified Purifoy as the show's oldest artist; Minnie Evans (1892–1987) holds that title.