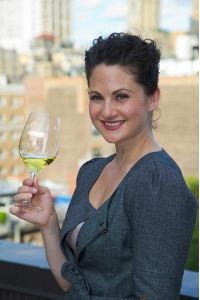 Whether it's inducing thoughts of sumptuous acres of vines on a Napa Valley vineyard or a grayed man deep in a cellar snuffing pinot noir in eastern France, "Sommelier" is one of those words that generates grandiose imagery to many.
But it's not all glorious grapes and sparkling sauvignon blancs, for although the profession may seem as lavish as the word, the pressure is on and sommeliers must share this wine-filled world with the rest of us.
"I'm actually self-conscious of it. I think you lose people with being too technical," sommelier Kristie Petrullo told the Observer at The Watering Hole dive bar on the Lower East Side. "You have to know your audience and speak about wine in ways that make sense to people."
Prior to finding her own NYC consulting firm, Petrullo Wine Consulting, she was Chef Sommelier at Jean Georges Restaurant located at 1 Central Park West. At the time, she was the only woman to hold the renowned title at any Michelin three-star rated restaurant in the US, France or Germany.
She's graced the wine racks of a few of the city's other fine dining establishments as well, having held sommelier and beverage director positions at Daniel's Restaurant, Eleven Madison Park, and Tom Colicchio's flagship restaurant.
But working at some of the world's most exquisite eateries can be a hindrance to sommeliers when they want to simply kick back with a glass.
"You can't just enjoy it. It's kind of like being an actor in the way that you can't just go and watch a movie because you're studying the acting," Ms. Petrullo explained while leisurely sipping a Stella. "It's that way with me and wine. I can't go and just have a glass of wine without thinking about it. I'm ALWAYS thinking about it."
Clearly, sommeliers are always on the job. On the rare occasion Ms. Petrullo isn't bringing the wine to the family holiday party, her mother is calling her from the store asking, "should I get this? Should I get that?"
---

'I can't go and just have a glass of wine without thinking about it. I'm ALWAYS thinking about it.'

---
"She'll always ask for my opinion. They do rely on me for the wine advice a lot," she said.
When she's out with friends, they'll usually hand her the wine list right away so she can select the perfect bottle for the evening.
"I'll go through my normal questioning just to make sure that we order something that everybody likes. The pallets are all different, so even though I'm a sommelier, wine that I might like, they might not like," Ms. Petrullo said. "They might just expect me to pick something they like without even telling me what type that is, so I have to go through the questions like 'what kind of wine do you normally drink?' and all of these things."
And with her vast knowledge of all things wine, Ms. Petrullo can definitely call your bluff.
"I've been to places where I've asked a question about the wine and the server clearly didn't know the answer and lied to me. So you're sitting there knowing it's false and you're just looking at the person you're with saying, 'do I continue this conversation or let it go?'" she said.
With the role of sommelier now growing in popularity and garnering mainstream attention, people often approach her with a know-it-all essence because they've read an article or two and seen the documentary Somm.
---

'When I was at Jean Georges, every night people would ask me what level I am. And I just wanted to ask them, "do you even know what you're asking me? What level of what?"'

---
What most people don't know, Ms. Petrullo explained, is that you don't need to pass any tests and earn the popularized title of Master Sommelier to work in the profession.
"These things are not necessary," she said. "I haven't been certified in anything, and I have not taken tests. It was not my path."
But with all the media coverage coupled with peoples' own ideas about the wine world, people assume her life has been one big all-nighter cramming for the Master Sommelier exam.
"People just assume you are," she said. "In fact, when I was at Jean Georges, every night people would ask me what level I am. And I just wanted to ask them, 'do you even know what you're asking me? What level of what?"
The truth of it is that Ms. Petrullo is just an ordinary person who really, really, really likes wine.
She first became interested and began to educate herself on wine around the time the college chapter of her life was closing and she was struggling for direction.
While bartending one night in Miami during the 2002 SOBE Food and Wine Festival, she spent a night talking the ear off a customer who, unbeknownst to her, would become her "in" into the wine industry.
"I had a sort of pure excitement about it because I was freshly learning, and without knowing that he was in the wine business, I said to him 'oh, one day I would love to go out and work the harvest in California' and whatever tangent I went on," Ms. Petrullo said. "He said 'you know, I own a winery, and if you're interested, I can put you in touch with somebody about coming to work harvest. If you're serious, here's my card.'"
The next day she e-mailed him, and before she knew it, she was on her way to California.
"I saw a window of opportunity and I jumped through it," Ms. Petrullo said.