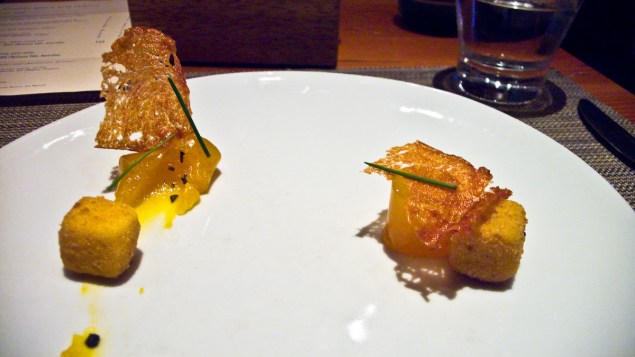 Wylie Dufresne's wd-50 is closing at the end of November and I just can't manage to be sad about it. It's not apathy or callousness, I hope. My grandfather died three weeks ago, at age 93. I wasn't sad about that either. It was his time to go. He was great but his life was over. In the same way, it is time for wd-50 to end or, more accurately, to transmute into something different.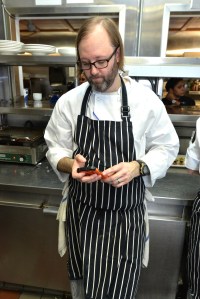 I was getting a coffee — at a place called Coffee Junkiez — when my grandfather drew his last breath. By the time I got to the room at the hospital, his skin was already yellow and paper like. His mouth was open like a mask of tragedy. I didn't realize what bad teeth he had. I asked my sister, a doctor, what it was that killed him in the end. She said, "It's not just one thing. His systems were failing."
I wonder if it was much the same at Wylie Dufresne's Lower East Side redoubt. Ostensibly, wd-50 is closing because the building is being renovated by luxury condo overlords. I do not disbelieve this for a second. It is, moreover, verifiably true. At the same time, I don't think it tells the entire story. wd-50 was and always has been critically lauded but it has not been a hotspot for a very long time. It wasn't hip or current and it wasn't, to the best of my knowledge, trying to be. In the image of its creator, Mr. Dufresne, wd-50 was playing a different game. One reason it was so refreshing, constantly refreshing, over the course of 11 years is that it ran totally buck naked outside the streams of cool.
Uncool is great but unpeopled is more problematic. As a friend noted — a self-confessed "Open Table" junkie — one could eat at wd-50 at will at any time. Sadly, it is my understanding that not many availed themselves of the opportunity. Dufresne's cooking and the steady state Burning Man experimentation of the kitchen never got old. It was T-1, future food. But, because Dufresne opened wd-50 under vastly different dining circumstances and never really adjusted, the overall experience fundamentally shifted. When I ate there, which I have maybe four or five times over the last six years, it was awesome but the experience was tinged with a sadness, what the Japanese call mono no aware.
I hadn't been to wd-50 in a couple of years. Certainly not since alder, Dufresne's more casual restaurant opened a dozen blocks north. And I'm reasonably certain, not many of my compatriots visited either. Nor, for the last few years of his life, did I get out to Kokomo, Indiana, where my grandfather lived, or even speak to him over the phone all that often. Part of it was sloth, part of it was not wanting to see a man I remember as strong so weakened. Of course, the weakness was mine, not his. He needed compassion and company. It's something — in fact, the thing — that makes me saddest about his passing.
Thankfully, Mr. Dufresne has given a long lead to close wd-50 — until the end of November. As per his tweet announcing the closure, characteristically playful and upbeat, it read, "Come celebrate with us for the next 173 days. Stay tuned!!" After 11 years at wd-50, an effect on the New York culinary landscape that rivals Robert Moses' on beaches, serving as godfather, mentor and guiding light to hundreds of New York chefs and mind blower to thousands of her denizens, this period of celebration, atonement, mourning and meals, is perhaps the greatest gift the man could give.