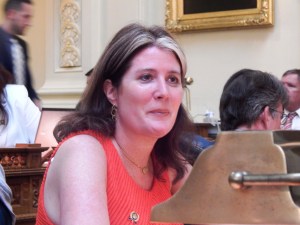 WINNERS
South Jersey Democrats
Thrashed by Assembly Majority Leader Lou Greenwald (D-6) into coughing up the requisite votes, reluctant lawmakers advanced a bill that would give Camden School District employees up to $6,000 a year each in additional retirement benefits.
The AFL-CIO
The labor organization hired the consummate pro in Angela Della Santi, long-serving backbone of the Associated Press in New Jersey. Della Santi's move is blow to a shambling Statehouse Press Corps, but good news for labor.
Paul Sarlo and Gary Schaer
Both lawmakers from the 36th district, the chairs of the senate and assembly budget committees received praise from their colleagues – on both sides of the aisle – for the way in which they conducted their respective committees in the lead-up to the Democrats' passage of the $34.1 billion proposal.
Bill Pascrell
The 9th District Congressman's Democrats beat the Republicans 15-6 in a ball game at Nationals Park, and the 77-year old Pascrell took his turn at the plate without having to worry about a federal investigation hanging over him.
James Anzaldi
On Monday, the mayor of Clifton will mark 25 years of service as chief executive of the Passaic County town.
LOSERS
Lawrence Durr
The AG's Office zapped the former Chesterfield Township mayor on official misconduct charges for allegedly entering an undisclosed deal to sell transferrable development rights on a 104-acre farm to a developer, and then using his official positions to advance the developer's plan to build a major residential and commercial project at another site in the township.
Public sector labor unions
Superior Court Judge Mary Jacobson this week ruled against more than eight unions seeking a preliminary injunction in the case against Gov. Chris Christie and his plan to cut from the state's pension system to plug a budget hole.
Atlantic City
If you want to check out AC this summer you better head down there now, because in too long it doesn't look like a lot will be left. Revel filed for bankruptcy last week and this week comes the news that the Showboat Atlantic City Hotel and Casino will close at the end of August.
Luis Quintana
As he heads out the door, the Acting Newark Mayor absorbed blame from veteran state Sen. Ronald L. Rice (D-28) for not properly submitting the city's application for transitional aid.
Newark
Sources say there is no power broker political motivation for New Jersey's largest city to receive significant aid in the FY2015 budget and expect Mayor-elect Ras Baraka to begin his term with fewer than usual resources.