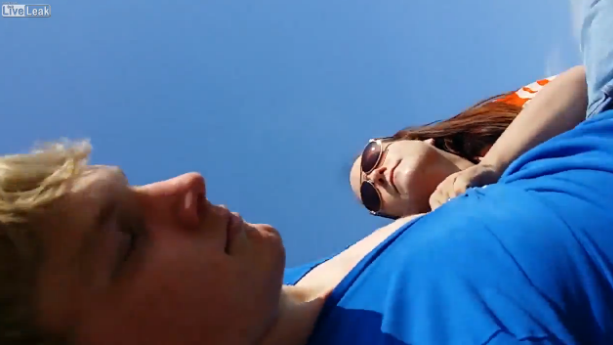 A 17-year-old boy flying his drone over a beach ended up getting called a "pervert" and having a stranger's fingers shoved into his mouth.
Austin Haughwout, 17, was reportedly flying his radio-controlled quadcopter with an attached GoPro camera over a beach in Connecticut on May 12, when he was allegedly confronted and attacked by 23-year-old beachgoer Andrea Mears, who accused him of taking pervy pictures of her.
Ms. Mears called the police, pleading, "Stop, stop, stop, this guy is taking pictures and trying to upload them from a camera. Can you guys get here?"
As you can see in the video Mr. Haughwout managed to record of the attack, as the teen is trying to pack up his drone and leave, Ms. Mears grabs hold of him and pushes him to the ground. Mr. Haughwaut tries to break free from her grip, yelling, "You're assaulting me, you asswipe!"
Ms. Mears calls him a "little pervert," and SHOVES HER FINGERS IN HIS MOUTH. Then she asks, "Yeah? You wanna take pictures?" as she grabs his shirt collar and swings her hand at his face.
Then, bizarrely, she tells him to let go of her, to which Mr. Haughwout responds, "If you weren't assaulting me, I wouldn't be touching you."
The woman's swipes at Mr. Haughwout's face become more intense, and she yells, "I'm gonna beat your ass, you little motherfucker." Mr. Haughwout, unsurprisingly, loudly yells for help.
When cops arrived, Ms. Mears reportedly claimed that the teen had assaulted her — but then Mr. Haughwout showed them the video on his phone. Ms. Mears was arrested and charged with third-degree assault and breach of peace.
Mr. Haughwout, who police believed was acting in self-defense, was not charged with anything. The teen told FOX CT that at the altitude his drone had been filming, the people on the beach couldn't even be seen clearly; and besides — it's legal to take photographs in public places, anyway.
Ms. Mears is reportedly due in Superior Court in New Haven next Thursday, June 19.