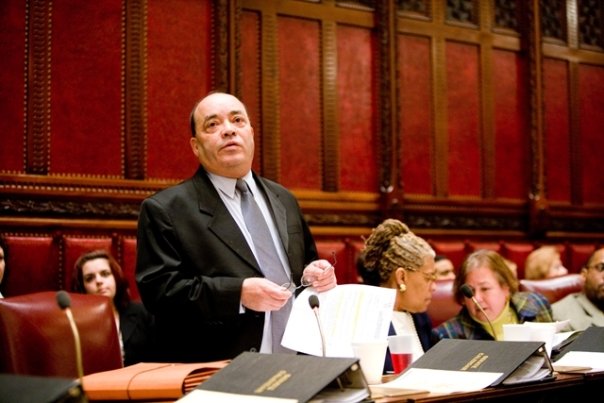 The union-backed Working Families Party has endorsed Williamsburg activist Debbie Medina in her Democratic primary challenge to six-term Bushwick State Senator Martin Dilan, sources tell the Observer.
Ms. Medina, an organizer for the community group Los Sures, praised the left-wing third party for it's efforts combating the Democratic Party establishment and the encroaching gentrification. The candidate vowed to work to improve quality of life in the rapidly changing district with the WFP's help.
"Here in North Brooklyn, we've spent decades fighting to protect our community from Vito Lopez, big developers and Albany's culture of corruption, and we've always had an ally in the Working Families Party," said Debbie Medina. "Now we can move forward on issues ranging from affordable housing to quality public schools to better mass transit and good jobs, but not if we stay stuck in the past.  On all of these issues, the WFP's solutions are my solutions–and I'm so proud to have their support. I look forward to working with the WFP as we spend the coming months spreading our bold, progressive message to homes and neighborhoods across Northern Brooklyn."
Mr. Dilan expressed surprise that Working Families chose to back his opponent, arguing that his views on matters like affordable housing and women's issues coincide with WFP's own.
"All I can say is that I'm baffled," said the Brooklyn pol. "They know I support the issues that matter to them 100 percent, my voting record shows that, so I do not know why they would do that."
In recent years, WFP has fought former Brooklyn Democratic Party chairman Vito Lopez and allies of his–like Mr. Dilan–in northern Brooklyn, even though the party had previously supported the disgraced assemblyman. In 2011, the party unsuccessfully ran activist Jesus Gonzalez for Assembly against Mr. Lopez's handpicked candidate, now-Councilman Rafael Espinal.
The party similarly last year backed community board member Jason Otaño for Mr. Lopez's vacated Assembly seat, which the pol stepped down from after sexual harassment allegations against him emerged in 2012. Mr. Otaño lost to Mr. Lopez's favored candidate, now-Assemblywoman Maritza Davila.
The party also unsuccessfully supported East New York activist Kimberly Council against Mr. Espinal in 2013 for the City Council seat previously held by Mr. Dilan's son, Erik Dilan. Now-Councilman Antonio Reynoso defeated Mr. Lopez last year in the race for deputy Brooklyn Borough President Diana Reyna's vacant seat with the Working Families Party's endorsement.
Mr. Dilan acknowledged his close relationship with Mr. Lopez, but argued that the former party chairman delivered for his district, which overlapped heavily with Mr. Dilan's own. The incumbent predicted that he would win re-election once again with or without Working Families support.
"Assemblyman Vito Lopez did a lot for the community, and I did have a good relationship with him," Mr. Dilan said. "I've been honest and interactive with my community, and I believe there will be a great response from the community."
Updated to include comment from Ms. Medina.