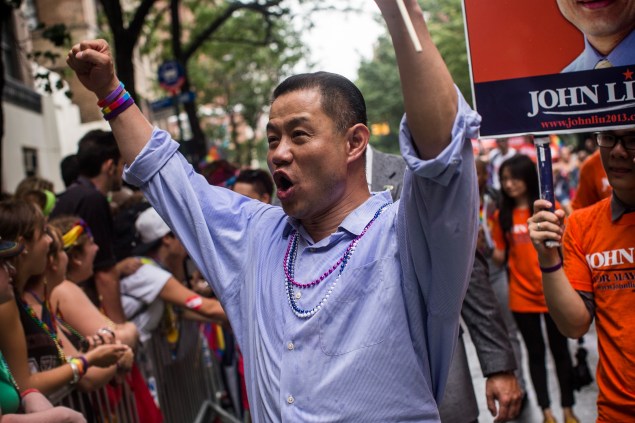 The Working Families Party has endorsed former city comptroller John Liu in his primary bid to unseat eastern Queens State Senator Tony Avella, a member of the GOP-aligned Independent Democratic Conference–continuing the labor-backed third party's effort to put the legislative body's reins in the hands of the larger Democratic delegation.
Mr. Liu vowed to promote the WFP's agenda if elected, including passing the Dream Act to grant financial assistance for undocumented immigrant college students, bringing about public financing of elections, and changing rent control laws to preserve affordable housing stock. The former mayoral contender blamed Mr. Avella and the IDC for giving the Republicans control of the State Senate and preventing such initiatives from going through.
"The Republicans and their allies in the Senate have had ample chances to make New York a better place for working women and men, and they've failed.  It's time for a change," said Mr. Liu. "With the help of the Working Families Party, I will bring that change to Albany."
The WFP, for its part, praised Liu's past work and said his victory would go a long way in changing the balance of power in the state. The endorsement came as little surprise to political observers as Mr. Liu has been racking up labor nods.
"John Liu helps set the standard for progressive leadership in New York, and has long been a relentless fighter for this city's working families. The Working Families Party is proud to endorse John Liu for State Senate, and we look forward to welcoming him as a key member of the Democrat-Working Families majority that will fight for a New York that works for all of us, not just the wealthy and well-connected," said Working Families State Director Bill Lipton.
Mr. Avella's camp lashed out at both Mr. Liu's and the Working Families Party's past legal woes in response to the endorsement.
"This should come as no surprise as both the WFP and John Liu have their own cherished history of backroom deals, reduced-rate-in-kind contributions for city office, and alleged campaign violations that bring utter disgust to our democratic process," said spokeswoman Heather Sager.
Updated to include comment from Mr. Avella's campaign.