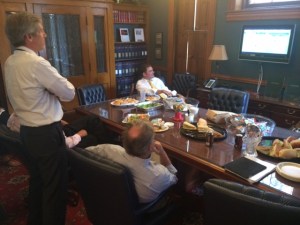 TRENTON – While the Legislature fought to push through the state budget on a sweltering Thursday afternoon, the scene inside the office of the prominent lobbying group Princeton Public Affairs Group (PPAG) was considerably cooler, figuratively and literally.
Inside one of the firm's wood-paneled conference rooms, a small group of employees sat and watched the United States play Germany in the World Cup soccer championship tournament, happy that despite America's 1-0 loss, the team will now advance to the knockout round.
Some prominent members of the U.S. World Cup soccer team have strong New Jersey ties, including goalie Tim Howard, of North Brunswick, and midfielder Michael Bradley, of Pennington, whose father was Princeton University's men's soccer coach.
Some prominent state legislators, including state Sen. Ray Lesniak (D-20) and state Sen.Mike Doherty (R-23), proudly wore U.S. soccer jerseys onto the Senate floor.
The reason why the Legislature was in session did not escape the PPAG lobbyists, sitting in air-conditioned comfort watching the World Cup on a flat-screen TV while the politicos across West State Street waged political war over the Democrats' proposed $34.1 billion budget that emerged out of both chambers' budget committees Tuesday night.
Several lobbyists talked about the prevailing atmosphere in Trenton in late June: while a welcome distraction, never mind the World Cup. The budget battle is the true show, and which version will win is still up in the air.
Then again, a Democratic source told PolitickerNJ.com that Democratic leadership is prepared to absorb Gov. Christie's proposed cuts without much fuss. As a result, Thursday's fight on the soccer field might prove to be more strenuous that what was once viewed as a potentially bitter budget battle.
"What we have today is a unique situation where the Democrats' leader of both houses of the Legislature have come together in agreement on the budget," said PPAG staff member Kevin Hagan, 38, former deputy chief of staff for Gov. Jim McGreevey and state Senate President Steve Sweeney's (D-3) former chief of staff, referring both to his former boss and state Assembly Majority Leader Vinny Prieto (D-32). "It's June 26. It's not June 30. The truth of the matter is that this budget could wait to be passed on Monday. On all sides, it's been a thoughtful, well-produced product. Unlike years past, it's not June 30 at 11:30 p.m., and we're wondering if somebody has to pull the plug on the Assembly's clock."
"You don't have hundreds of people down here and different constituent groups because there hasn't been any discretionary money for years," said PPAG staff member Dale Florio, 59, former chair of the Somerset County Republican Party. "When there is available money, that's when the sharks come in. Now it's a matter of how we divvy up what little we have."
"As you walked through the State House this morning, there was certainly excitement about the Wold Cup game today, which was kind of neat," Florio added before going back to work. "It actually created a lighter mood considering the partisanship that can occur as part of the budget process. It actually came at a great time. Most of the work has been done. Now it's just a matter of processing the bills today."