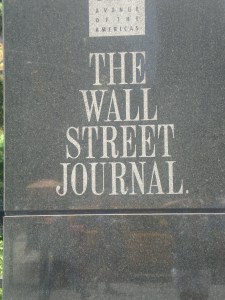 The Wall Street Journal removed three travel stories from the archives after discovering that Akhil Sharma, the freelancer who wrote the stories, accepted perks while reporting.
Links to the three articles now result in the following:
Corrections & Amplifications
Three Off Duty travel articles written by freelance writer Akhil Sharma have been removed from The Wall Street Journal's electronic archives because Mr. Sharma received some free and discounted goods and services, including hotel stays, in reporting these articles. Such deals violate the Journal's policy that forbids writers from accepting free goods or services or from taking discounts not available to the general public. The articles were "Peek at Secret Florence," published April 26; "Defrost Your Inner Winter Olympian," Feb. 16, 2013; and "Row, Row, Row Your Gondola," June 23, 2012.
Freelancers for publications with strict ethical guidelines often find themselves in a sort of ethical grey area when it comes to adhering to said policy. Former New York Times Critical Shopper columnist Mike Albo, for example, created a stir when he was fired for violating Times policy by going on a junket to Jamaica. Mr. Albo, however, went on that trip as a freelancer rather than in his Times role and he wasn't reporting on it.
But in the case of the Journal, it seems there is less room for debate.
As the Journal's correction implies that Mr. Sharma's transgressions occurred while he was writing for the paper and, according to a Journal spokesperson, violated terms of the freelancer agreement. "The policy referenced in the correction is standard language in our freelance contracts," the spokesperson told the Observer.
Well, Mr. Sharma can always try writing a Kindle Single about the experience.