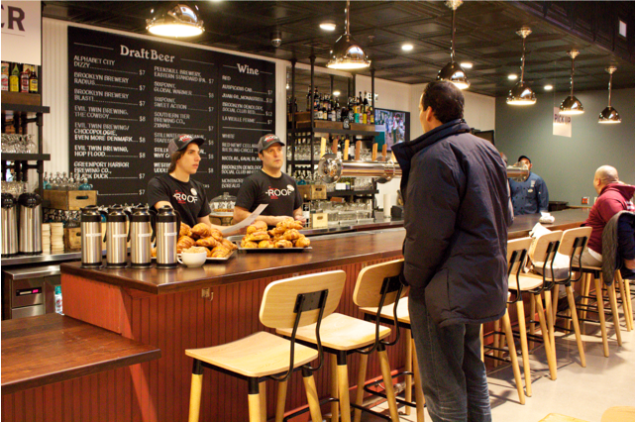 Talk about generating a lot of buzz.
The Whole Foods at Columbus Circle will soon be offering liquor at On Tap, its on-site pub and restaurant from 12 p.m. to 11 p.m. closing (apparently some people think 9 a.m. is "too early").
While the supermarket did gain approval from Community Board 4, they need the green light from the State Liquor Authority before the license is official, Whole Foods public relations representative Michael Sinatra told DNA info.
On Tap already offers beer and wine to go with various dishes such as vegetarian chili, turkey chili, and black bean veggie burgers. If the liquor application goes through, they'll soon be able to offer lemons and salt to go with margaritas and tequila shots.
When asked if the pub tarnishes the health-conscious M.O. of Whole Foods, a representative from On Tap told the Observer that all the foods are cooked on site and the portion sizes remain "pretty decent."
On Tap, whose busiest hours are between 12-2 p.m., and 5-11 p.m., also offers "Thirsty Thursday" where favorite beer vendors take over the club pub from 5-8 p.m.
For those Whole Food shoppers out of the Columbus Circle range and in need of a little pick-me-up, fear not: Whole Foods in Gowanus, Brooklyn comes with an in-store pub as well. Unfortunately, their liquor application was rejected by their Community Board 6.
Maybe they didn't want to end up like Hot Bird in Clinton Hill?