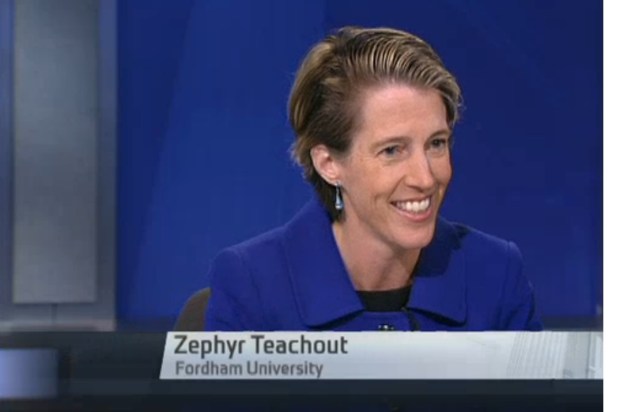 Zephyr Teachout, the Fordham University professor who nearly won the Working Families Party endorsement over the weekend, said last night a primary challenge against Gov. Andrew Cuomo is still very much in the cards.
Ms. Teachout, a Democrat, claimed the support for a primary bid exists and a campaign could be powered by a groundswell of small donors.
"I know the support is there in the state. My politics align with the state of New York politics and Gov. Cuomo and the state are really misaligned," Ms. Teachout said on NY1's Inside City Hall. "It's just a matter of figuring out the resources … I've been talking to funders."
"You know the campaign I wanted to run and will run if I run in the Democratic primary now or if I run sometime in the future, the core of it has to be small donors," Ms. Teachout, who said she backed Mr. Cuomo's 2010 bid, continued. "I don't want to ever feel like I can't say something or do something because some guy who has given me $60,000 doesn't want that."
Ms. Teachout's odds of defeating Mr. Cuomo are incredibly low and her ability to meet the residency requirement to run for governor has been questioned. But she emerged as a pivotal bargaining chip in the heated negotiations that landed Mr. Cuomo on the labor-backed Working Families Party line for his re-election bid–Mr. Cuomo wanted to avoid a Teachout candidacy because polls showed that a liberal, WFP-supported challenger could drastically cut into Mr. Cuomo's margin of victory against his Republican opponent.
While many labor leaders in the party were firmly behind Mr. Cuomo, rank-and-file members were angry with the governor for charting a more fiscally moderate course in his first term. Ms. Teachout, a former Howard Dean campaign aide, won about 41 percent of the party's endorsement vote. Immediately after she lost out to Mr. Cuomo, she strongly hinted that she wasn't done in the political arena.
"There's a world we want to get to, it's over the water. We want to get to a world where we have the best public education in the country, we want to get to a world where we have real good jobs, not just low-level jobs," Ms. Teachout said on NY1.
"And the debate at the Working Families Party Convention was–what kind of bridge should build to we get to that world? I believe the bridge is with lots of small dollar donations, build a big online campaign, engage new people."