A recent Tumblr-fan-targeted convention sounded like a dream come true for Tumblrites, be they brony, Potterhead, SuperWhoLockian or just teens with lots of feelings.
Unfortunately, the convention turned into a shitshow pretty quickly; the organizers were really putting the "con" back in convention.
Originally dubbed Tumbl-Con USA, organizers changed the name to DashCon to avoid copyright infringement. Funding for the event was gathered on Indiegogo, and people had high expectations for the July 11-to-13 convention held in Illinois.
Sadly, it turned into a scammy affair: it consisted of a few actual convention-like events and an empty room with some crappy inflatable rides, but apparently cost $17,000. The community scraped together a pretty solid meme inspired by the Con, but it came at a pretty steep price.
In the spirit of learning from our mistakes, we've assembled a list of tips for avid Tumblr users to spot scams in the future. It's kind of hard to deal with the outernet when you're so used to online life, after all.
How to Tell That the Convention You're Attending Is Kind of a Scam
1. It is located in Schaumburg, Ill., yet still costs a whopping $80 for admission.
2. The convention's organizers said they were  "partnering" with a charity, and that charity later refuted said partnership.
3. The convention's "game room" consists of a single console. This is a good indication that the game is you. You are the game.
4. The convention-runners tell everyone in the middle of the convention that the hotel (the Renaissance Schaumburg Hotel, owned by Marriott, so a fairly legit establishment) would shut down their event if they did not receive $17,000 immediately – as in, by 10 p.m. – despite the fact that they'd booked the hotel in advance and general convention protocol is to pay the hotel its money upfront when booking is happening.
5. There's a very official nondescript sack that they hand around so everyone can have the unique experience of burgling themselves. Also, you might spot a sepia-toned man twiddling his mustache maniacally near some railroad tracks.
6. The convention runners actually has the chutzpah to claim in a now-deleted plea for money on their site that "We suspect the demand for more money is due to the fact that upper management doesn't like the people at the con." DashCon, no. DashCon. That… that's not a thing.
7. The convention reaches its $17,000 in an absurdly short amount of time and then goes, "Golly shucks, guys, it was actually $20,000. Our b." (Disclaimer: not necessarily verbatim.)
8. The official convention explanation over the money thing has glaring errors and lacks logical sense. And the letter from the hotel, the supposed "proof," seems ridiculously easy to fake. (Also, the hotel reportedly has been contacted and had no clue that this was happening.)
9. Hotel mints are being used as contest prizes.
10. Moderators are somehow failing to show up, so panelists are modding their own panels.
11. Many panel speakers at the event are being denied payment.
12. Participants in the main event — a Welcome to Night Vale panel – duck out because they're also being refused pay for travel costs and performing.
13. And the solution to the Night Vale debacle is for con-organizers to allow attendees an extra hour in their broke-ass ball pit. Which holds a maximum of six people at once.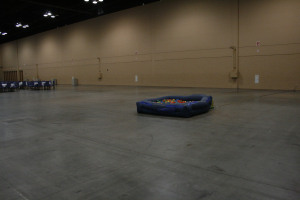 In spite of everything, we'll all miss the ball pit. It's an underdog you just have to believe in. According to attendees, it deflated sometime shortly after this picture was taken. Good night, sweet prince.