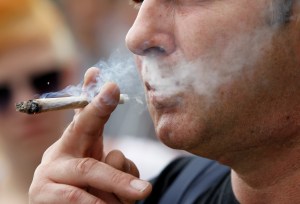 While New York's marijuana enthusiasts may not be on cloud nine quite yet following the baby steps Gov. Cuomo made in legalizing pot for medical use earlier this month, the drug's more insidious imitator is taking over headlines. A synthetic, and poisonous, version of marijuana has sent 15 people to New York hospitals in the last four days.
Though the substance was banned in 2012, synthetic marijuana can still be found in bodegas and head shops around the city, Gothamist reports. Ingesting the faux-pot has the potential to cause seizures and hallucinations and, since the ingredients are unknown, there is no antidote, the Department of Health and Hygiene stated in a press release.
The string of hospitalizations over the weekend occurred in Harlem and Chelsea. According to the DOH, New York has seen a 220 percent increase in emergency hospital visits related to synthetic marijuana. 
"K2, Spice, Green Giant—no matter what you call it, synthetic cannabinoids are dangerous and illegal," Health Commissioner Dr. Mary Bassett said. "I urge people not to use these products, which have caused a huge spike in emergency room visits this year."