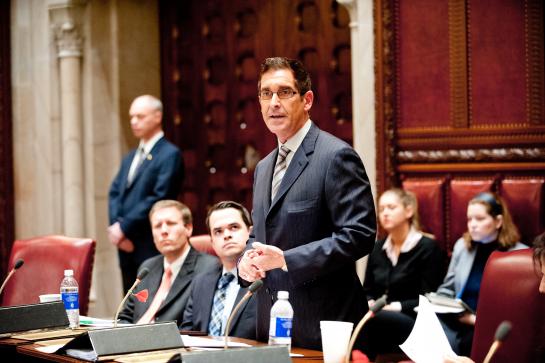 32BJ SEIU, one of the most prominent unions in the city, announced today they have endorsed State Senator Jeff Klein and are sitting out another hotly-contested senate race in the city.
The building workers union will not endorse State Senator Tony Avella or his rival, ex-Comptroller John Liu, in the race for the eastern Queens seat.
"We will mobilize our members and focus our resources this primary season on taking back the Senate for the Democrats," said Héctor Figueroa, president of 32BJ, in a statement. "A solid Democratic majority in the Senate, combined with a Democratic-led Assembly, will mean that we can pass legislation like the DREAM ACT, campaign finance reform and a higher minimum wage, which will concretely improve the lives of working families."
The union announced its full endorsement slate for many Assembly and State Senate races this afternoon. Coming a day after Mayor Bill de Blasio backed Mr. Klein over his rival, former Councilman Oliver Koppell, the union's endorsement represents further fallout of the deal brokered last month to unite the Independent Democratic Conference, a group of five breakaway Democrats that Mr. Klein leads, and the Democratic Party in a new coalition after the fall elections.
The IDC currently governs the senate with the Republican Party, which angered liberals like Mr. de Blasio because it kept mainline Democrats in the minority. Democrats and unions had mulled and even launched primary challenges to members of the IDC like Mr. Avella. With the deal in place, much of the labor backing has vanished for the insurgents.
While Mr. de Blasio was able to endorse both Mr. Klein and Mr. Avella, members of 32BJ enjoy a strong relationship with the labor-friendly Mr. Liu, making it more difficult for them to work actively to thwart the former comptroller. Another major labor union, the United Federation of Teachers, is expected to stay neutral in that race as well, sources say.
32BJ made several other notable endorsements in competitive races around the city. They backed Pete Sikora in an open Brooklyn Assembly race over rival Jo Anne Simon (Mr. Sikora already had the support of the labor-backed Working Families Party) and Jesse Hamilton, a Democratic district leader, over several rivals in an open Brooklyn State Senate seat.
The union is also supporting ex-labor operative Dell Smitherman's challenge of indicted Brooklyn State Senator John Sampson, Rebecca Seawright's bid for an open Manhattan Assembly seat and Lori Boozer's bid for an open Assembly seat in Brooklyn.