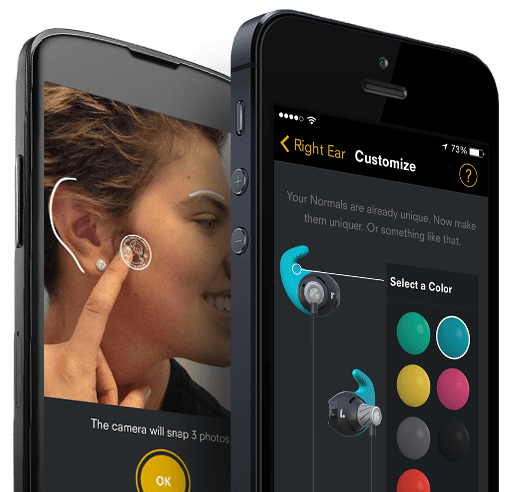 Everyone can name a friend or two who complains that standard-issue earbuds fall out of their ears or cause them pain after a while. A new startup is seeking to solve that problem by creating 3D-printed earbuds with photos of customers' ears.
Called Normal, the company was founded by Nikki Kaufman, a founding team member of Quirky, and launched yesterday.
Typical custom earbuds made of silicone molds can cost thousands of dollars to build, Ms. Kaufman told Betabeat. Until now, only people who worked in the industry would bother to visit a doctor and get a pair. With 3D-printing, Normal has shrunk the price down to $199 — steeper than the free earbuds that accompanied your latest smartphone, of course, but a slip-free listening experience clearly isn't cheap.
Customers can download Normal's app, take a few pictures of each ear (left and right can differ dramatically) and pick out their preferred colors and cord length. The earbuds will ship after 48 hours.
Normal is launching a retail location in Chelsea in early August, Ms. Kaufman said. There, customers will be able to watch their earbuds as they're being 3D-printed — and then, presumably, head home listening to music without having to readjust every five seconds.