On the Upper East Side, $90,000 a month can rent an eight-bedroom, 14,000-square-foot townhouse, but at The Pierre hotel, $105,000 a month fetches a one-bedroom with one bathroom—which is only a deal if you consider that the tower's penthouse is asking for $95 million, in cash.
The unit is known as the Park View, for its Central Park vistas. Equally impressive are the nobles who have temporarily called the storied hotel home, including Elizabeth Taylor, Mary Tyler Moore, Stephen King, Tom Wolfe, French President Francois Mitterrand, Japanese Emperor Hirohito and Russia's President Boris Yeltsin. 
At $1,145 per square foot per month, the Schultze & Weaver-designed Pierre has by far the costliest apartment by size—but not the most expensive overall. 
The Observer found several rentals on the market in New York City asking $100,000 or more, and brokers say the number is poised to swell, especially as a swath of investor-friendly luxury condos rise along the West 57th Street corridor. 
"The six-figure rental market is going to continue to grow," said Margaret Bay, a broker at Brown Harris Stevens, who is marketing several of the top rental listings in the city. "Apartments in buildings like the Baccarat, One57 and 432 Park are being bought by investors planning to lease them."
At the moment, the highest-price rentals are spread across just three Manhattan neighborhoods—Midtown, the Upper East Side and the Upper West Side—and are peddled by four brokers. And although this niche in the New York real estate market can at times feel like a club too exclusive for its own good, there are takers—albeit occasional ones.
"I am seeing huge demand for ultra, ultra, ultra luxury rentals," said Michelle Griffith of Trump International Realty New York, who has a $125,000 a month listing on the Upper East Side. 
"I have had international visitors and New Yorkers as clients, and they all wanted something different. There isn't one type of renter." 
These apartments typically rent to those who are in New York for medical reasons, who are renovating their home, who are shopping for a permanent residence and to international travelers. And their stays can range from a single month to many years, Ms. Bay said.
She added that, occasionally, she rents out hotel penthouses for decades to those who have been advised to keep their capital liquid.
"I have people who sometimes live in hotels for long periods of time; for 10 to even 30 years," Ms. Bay said. "It can sometimes behoove someone who has an enormous amount of money to spend millions of dollars a year on rent and keep their assets invested." 
Bearing the coming boom in six-figure rentals in mind, The Observer took a look at the select Manhattan properties charging these dizzying rents.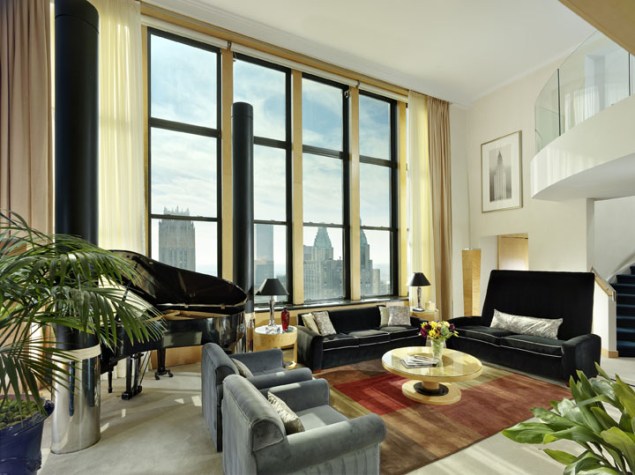 $250,000 a month: The New York Palace Hotel 
Address: 455 Madison Ave.
Specs: 5,000 square feet, 3B, 5BA 
Who it's for: Bling enthusiasts. New York's most expensive monthly rental apartments feature crystal pendant chandeliers, a vaulted ceiling and room service from celebrity chef Michel Richard's Villard restaurant. Known individually as the Champagne Suite—modeled after a bottle of Dom Perignon—and the Jewel Suite—with $1.5 million worth of jewels on display—the two apartments are especially popular with musicians and celebrities, sources said. Too rich? Two other Palace penthouses on the same floor cost $175,000 a month to rent—they haven't been renovated. 
---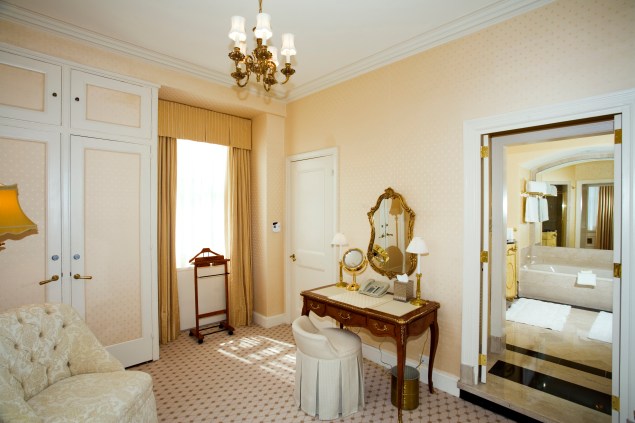 $135,000 a month: Waldorf Astoria
Address: 100 E. 50th St.  #42H
Specs: 3,200 square feet, 3B, 3.5BA
Who it's for: Dictators with limitless expense accounts. This penthouse spread was the city's most expensive rental for nearly two years until the New York Palace came along. VIP tenants include kings, queens, prime ministers and prominent members of the United Nations. "The renters at the Waldorf are essentially the same as those at the New York Palace," Ms. Bay, who has the listing, explained. "It's simply a matter of taste. The Waldorf is furnished more traditionally."

---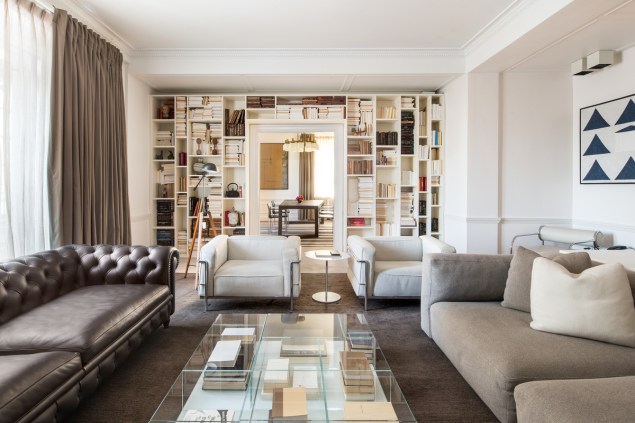 $105,000 a month: The Pierre
Address: 2 E. 61st St. #2804
Specs: 1,100 square feet, 1B, 1BA
Who it's for: Billionaire hermits. It may seem like splitting hairs to single out one place on this list as being expensive, but seriously, is two bathrooms too much to ask?
---
$125,000 a month: 15 Central Park West
Address: 15 Central Park West #35AB
Specs: 6,000 square feet, 5B, 5BA 
Who it's for: Name droppers. Neighbors at the storied building famous for record-setting sales include Goldman Sachs CEO Lloyd Blankfein, Denzel Washington and Sting. Also, Ekatertina Rybolovleva, the daughter of Russian billionaire Dmitry, who paid a record-setting $88 million for her unit. Rentals are a rarity in the building, but feel free to stick around—Paula Del Nunzio of Brown Harris Stevens is marketing the apartment for sale at $65 million.
---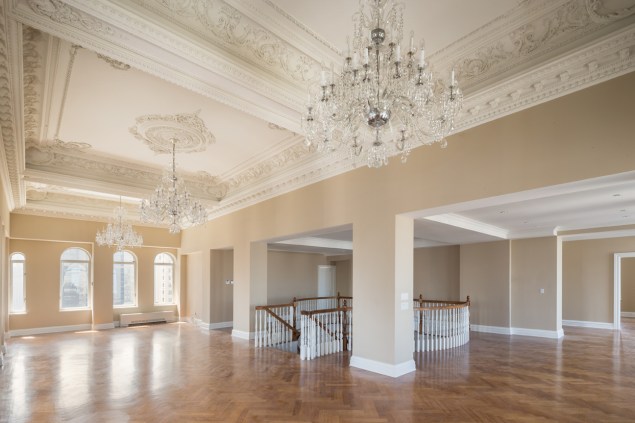 $125,000 a month: Trump Park Ave
Address: 502 Park Avenue PH-31/32
Specs: 6,278 square feet, 4B, 6.5BA
Who it's for: Someone with their own furniture. This penthouse apartment comes without any—although Ms. Griffith said she can recommend a decorator. At least renters won't be lonely—two other six-figure rentals on the same floor are already occupied. "We have a history of getting these prices in 502 Park," said Ms. Griffith.