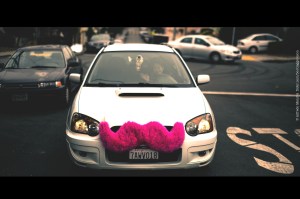 Lyft, the controversial ride-sharing app identified by its pink mustache, has expanded its service to over 64 cities across the US with great success and is now itching to hit the road in NYC.
However, the San Francisco-based car service, originally slated to launch in Brooklyn and Queens on July 11, was nixed by the Taxi and Limousine Commission and New York Attorney General Eric Schneiderman last week over questions of its legality.
Not only does Lyft act as a direct competitor to other ride-sharing apps and taxi services, it does not actually employ its drivers, nor require the rider to actually pay a fare. Instead, passengers pay their drivers in "donations," from which Lyft takes 20 percent, allowing it to skirt TLC laws.
While the startup remains in deadlock with the TLC and the Attorney General, leaving New Yorkers' dreams of hailing down a stranger via their iPhone on hold, take a look back at the headlines and speed bumps Lyft has hit on its journey to the Big Apple:
November 1, 2013 
Will a Taxi-Friendly De Blasio Administration Hurt Transportation Apps? via New York Magazine
Troublesome times are ahead for the e-hail startups! With the medallion-favoring Bill de Blasio set to win New York's mayoral race, car service apps like Uber, Gett, Sidecar and Lyft were all nervous that they'd hit a road block once he took office.
December 11, 2013 
Ice Cube, Kevin Hart and Conan Share A Lyft Car via Team Coco
That is all.
April 2, 2014
Ride-Sharing Firm Lyft Raises $250 Million, Eyes NYC Expansion via TIME Magazine
Lyft, already valued at $700 million, is now prepared to duke it out with the big boys (a.k.a. the $17 billion Uber) in none other than New York City. "It's a massive opportunity in a really large market," founder John Zimmer told TIME. "This is the year for Lyft in New York."
July 2nd, 2014
Ride-Sharing App Lyft Ready to Give Uber a Run for Its Money via DNA Info
In an effort to rehabilitate the bad rap that they have gotten over their potential illegality, Lyft looks for love at the Community Board meetings in Brooklyn and Queens.
July 8, 2014
Lyft Gives Up Pink Mustaches to Take On Uber in New York via Bloomberg
Sadly, Lyft gives up their signature fluffy pink mustaches that adorn the grills of their cars to compete with the Uber's sleek rides.
July 8, 2014
Uber Rival Lyft Plans Friday Launch Against TLC Rules via DNA Info
Fed up with all the road blocks in their way, Lyft goes rogue against the TLC and decides to launch in Brooklyn and Queens at 7 p.m. on July 11th, without a license or official permission from the city. Maybe no one will realize if they are mustache-free?
July 10, 2014
NYC to Lyft Drivers: We May Impound Your Car via TIME Magazine
While the TLC means business Lyft struggles on, promising two weeks of free trips to riders who sign up for the embattled car service. So much for that impound warning.
July 10, 2014
Lyft Slapped with "Cease-and-Desist" Notice via Crain's New York
The ride-sharing program is issued a "cease-and-desist" letter by Department of Financial Services Superintendent Benjamin Lawsky, accusing Lyft of "acting in bad faith." Mr. Lawsky commanded they put the brakes on all promotional activities in the state after they lied in a June 5th meeting about not having plans to launch in NYC.
July 11, 2014
Lyft Hit with Restraining Orders From NY Attorney General, Taxi Comission via The Verge
Lyft is sued and served with a temporary restraining order by New York Attorney General Eric Schneiderman and the TLC just hours before it is set to launch. "As it has done in every other city in which it operates, the defendant has simply waltzed into New York and set up shop while defying every law passed," the order stated.
July 12, 2014
Lyft's New York Launch is Delayed, But Protesters Still Showed Up to the Party via BuzzFeed
Just because Lyft didn't launch as planned, doesn't mean they didn't party as planned. And every party has its poopers, which in this case consisted mainly of members of the New York Taxi Workers Alliance. "They are throwing a free party and we're here to ruin that party," they jeered.
July 13, 2014 
All Hail Government Regulation via New York Daily News
Anthony Weiner valiantly pens an op-ed in the Daily News about the pro's of bureaucratic involvement in ride-sharing program Lyft.
Alas, nearly a week after Lyft was set to launch in NYC, they are still facing off against the TLC and Attorney General Schneiderman. Will this embattled ride-sharing app ever lyft off?