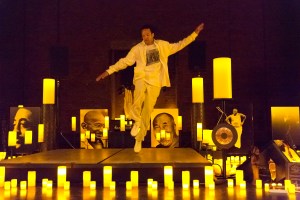 Why was the one-week season of the Boston Ballet, celebrating its 50th anniversary, such a painful disappointment? This company is talked about as though it were on a par with our other second-tier companies, just behind ABT and City Ballet—San Francisco, Pacific Northwest, Miami, and by a generous stretch of the imagination, Houston—and we haven't see it in New York within living memory. The disappointment comes from the unwelcome revelation that although its dancers are devoted and agreeable, it's a gigantic artistic mess. The pain comes because the company is clearly so proud of its awful aesthetic. They're up there in Beantown isolated from the realities: Sorry, guys, but William Forsythe is old hat (and was a pernicious phenomenon when he was new hat); Jorma Elo—the Finnish resident choreographer—churns out frantic and empty pieces every 10 minutes; and most of the rest of the repertory on display here is what we used to call Eurotrash—although Europe's in enough trouble already without having to shoulder the blame for a tsunami of bad art.
Boston's artistic director, Mikko Nissinen, is himself Finnish and before becoming a leading dancer in San Francisco, began his dancing career at the Dutch National Ballet. For Program One, he served up three slices of Euro-inflected garbage. First, Forsythe's 1991's The Second Detail, with its faux-ballet veneer—14 energetic dancers jetéing, arabesquing, fouettéing to the ghastly taped techno-rock music of Forsythe's longtime collaborator, Thom Willems. Though it doesn't really matter what the music is, since Forsythe's work doesn't spring from music but from concept and provocation. For instance, I'd be grateful if someone could tell me why, at the very front of the stage, there was a small placard facing us on which the word "THE" was written.
But at least Forsythe is technically competent. What followed—something called Resonance by someone called José Martinez (director of Spain's Compañia Nacional de Danza)—is the single most vacant dance work I can recall seeing. Liszt piano music (unidentified and undistinguished) played by two pianists; two couples and a lot of corps; and not a moment—not one—of interest, unless you count the shifting walls that keep crossing the stage, creating different areas for the dancers to pop in and out of. This piece premiered in Boston in February, so Nissinen must actually have seen it before bringing it to New York.

Finally, Alexander Ekman's Cacti, from the Lucent Danstheatre in The Hague. Ekman, Swedish, was with the Nederlands Dans Theater II where, his program bio boasts, he worked with such choreographers as Jiří Kylián, Hans van Manen, Nacho Duato and Mats Ek. Enough said. Cacti is in a very special category: pretentious/cute. At first the dancers are all kneeling on little platforms up front, gesticulating and posturing. Then they carry on cactuses (okay, cacti). There's a dreadful highfalutin' voiceover of a text by Spenser Theberge, some of which was mercifully inaudible over the speaker system. Cacti required music by the Big Five: Haydn, Beethoven, Schubert, Mahler and … Andy Stein. So ended Program One as we fled into the night.
Things looked up with Program Two, since it began with Balanchine's brilliant Symphony in Three Movements (from the 1972 Stravinsky Festival). Staged several years ago, with her customary incisiveness, by SAB's Susan Pilarre (here uncredited), and kept up to the mark by another Balanchine graduate, the company's Assistant Artistic Director, Russell Kaiser, it was danced full-out, and was scrupulous in detail. I prefer a slightly more weighty third movement—there are echoes or war in both the music and the choreography—but I'm not complaining. And oh, how happy the dancers looked to be dancing something first-rate!
Nijinsky's Afternoon of a Faun—the old Paris Opera version, staged by Ghislaine Thesmar and featuring the famous Bakst sets from 1912—was given a performance that was perhaps a touch reverential but was serious and convincing, the Faun danced by a satisfyingly languorous and epicene Altan Dugaraa (from Mongolia). Next up, and certainly the season's biggest hit—wildly cheered by the audience—was Plan to B, a Jorma Elo special from 10 years ago. Here was quintessential Elo, although all Elo is quintessential—it's hard to distinguish good Elo from bad Elo. Pure athleticism, no discernible structure, lack of musical intelligence, just bang bang bang. For a while every other ballet company in America was commissioning him, though I sense that the fever may have broken. In Boston, however, he's clearly still the heart of the enterprise. What does vulgar work like this do to a company's style? Boston performs the classics, although you'd never know it from this New York season. What can Sleeping Beauty look like with dancers nurtured on Jorma Elo?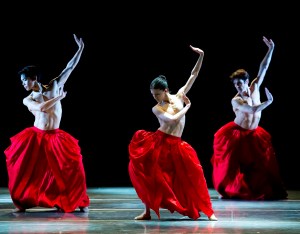 Or on a particularly confused and overblown piece by Kylián himself, the season's final offering. It's called Bella Figura, and it too features five composers. (These choreographers are apparently so greedy for inspiration that a single composer—Vivaldi, for instance—doesn't do the trick. How did Petipa, Fokine, Balanchine, Ashton and the rest get by, stuck with only a Tchaikovsky or a Delibes?) Bella Figura starts with the tired trope of the dancers wandering onstage while the houselights are still on, and warming up. But there's a thrilling new slant! Way up above the stage—suspended there in see-through coffins—are two full-frontal nudes, one male, one female. (It's an equal-opportunity company.) They just lie there for us to gaze upon until a curtain descends and they can escape, but they've made their point—whatever it was. Then there's a lot of earnest dancing until all the boys and girls emerge in bright red billowing skirts, naked from the waist up. More equal opportunity.
This is a company that, much like San Francisco, has a strong group of dancers, well-trained and well-rehearsed, but no outstanding stars. Well, you don't need stars for an Elo or a Kylián; it's paint-by-numbers, as long as the dancers have the requisite energy and confidence. They do have it, though, and it would good to see it applied to work more worthy than the spawn of the exhausted aesthetic of the 70s and 80s.
If you like being battered, the work of Savion Glover—one-time child prodigy—should be up your alley. I don't, and it isn't up mine. In recent years we've been exposed to his anger and to his obvious disdain of those who pay (not us critics, of course) to come and see him. Now it's spirituality he's stuffing down our throats. His new work at the Joyce—Om—is an hour and a half of religiosity. The program note is Prayer Of Forgiveness (clears Karma) by Lisa Barnett. "Divine Spirit/Source/God please be my forgiveness to anyone or anything that has hurt me, from the beginning until the end of time…" The dancer's bio reads, in full, "Savion Glover (hoofer, father, husband). Praise Almighty God. Chaney, I love you." The three parts of Om are titled "The Offeringz," "The Prayers," "The Resolutionz." (I can't help wondering why "Prayers" was spared the final "z.") The stage, when the curtain finally goes up, is strewn with votive candles and photographs of Glover's secular saints: Gregory Hines, Michael Jackson, Gandhi.
Everything is in the dark. Glover is on a square platform, his face in the shadows for the whole performance. Most of the time he dances solo, though his frequent partner, Marshall Davis, Jr., gets a bit of the action, too: not even Savion Glover can keep dancing full out for 90 minutes without breaks. A few other performers are standing or sitting around—every once in a while they get to do something, like stretch out their arms or wander about in the gloom. Others just kneel. Everything is over-miked—both the jazz music that blasts a hole in your head and Glover's fierce taps that pummel the floor: they're deafening. (His spirituality hasn't wholly blunted his anger.)
Yet his dancing is sublime. Surely no one has ever matched the genius of his feet—you watch in awed amazement at the virtuosity, the invention, the command. Until, what with all the pretension of the surround and the endlessness of the performance, you're burned out and your attention dissipates. Glover may have progressed from rage to spirituality but the narcissism remains undiluted. After the first hour of this intermissionless spectacle, I did something I've never done before: sneaked out while a dancer was dancing. And I was by no means the first to do so.