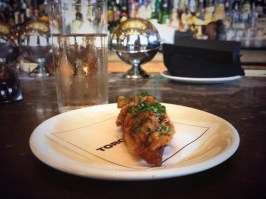 If, when you hear the word "tortilla," your only thoughts are corn or flour, your experience with traditional Spanish tapas has most likely not yet begun.
Whether you're discovering this bite-sized cuisine for the first time or are a self-professed fanatic, now's the time to take your taste buds on a vacation. Today is the last day of the NYC tapas trail, an event boasting over 20 of New York's best Spanish restaurants. For $10, each location offers one tapas dish and a glass of wine, allowing you to enjoy pinchos as they are meant to be enjoyed: frequently and one after another.
Last year I spent four months abroad in Spain, spending two weeks in Santiago and the rest of my time living in Madrid, and discovered that even when you're not eating tapas, most food there is consumed with the tapeo tradition in mind—ordering a bunch of different dishes and eating off your friend's plate. With this in mind, last week I set out on a mini tapas trail in an attempt to recreate my time abroad with just a few bites.
My first stop was El Colmado, a wine and tapas bar is located in the Gotham West Market.
"People order with their eyes," said server Dana Staley. "People can see what looks good and it makes for a very interactive kind of service." Along the bar were glass cases containing tortilla española, almendras, and aceitunas, which are part of the tapas trail special. The green and black olives are infused with lemon, almonds, citrus zest, rosemary, and olive oil—arguably the most essential of Spanish ingredients.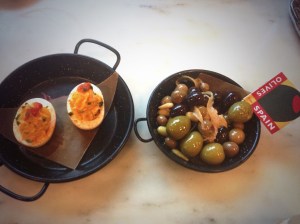 Chef Seamus Mullen paired this dish with huevo al diablo, or deviled eggs, made with bacalao and smoked roasted red pepper. Though I hadn't had the opportunity to try huevo al diablo while in Spain, the flavors were so familiar I could have been in Madrid's Mercado de San Miguel, not in the middle of Hell's Kitchen in the pouring rain.
Toro, on 10th Avenue, is a Barcelona-style tapas bar that mixes the modern with the traditional. The space felt industrial with its high ceilings and slate-gray scheme, but was grounded in its culture with legs of jamón hanging on shelves throughout. The menu followed suit: Their tortilla española, known as a Spanish omelette, had the taste of my host mother's home cooking, but was made new with the addition of an aioli on the side.
"It's all about casual, communal eating," said Special Projects Manager Patty Diez. "That's how I prefer to eat at restaurants. Sometimes you don't like your dish and you want to try someone else's," she added.
But at Toro, chances are slim that you'll get something on your plate you don't like. Their tapas trail special included escalivada catalana, smoked eggplant, onions, peppers and tomatoes with sherry vinegar and olive oil on a small piece of bread paired with a glass of white wine. While most of the flavors at work here are savory, each bite filled my mouth with sweetness perfectly cut with the olive oil.
Next, I traveled to the opposite coast of Spain, to Donostia, a taverna on Avenue B named for the Spanish city commonly known as San Sebastian. Two years ago, co-owners Marissa Miller and Jorge de Yarza turned their one-month vacation into a five-month research trip when they decided they wanted to open an eatery devoted to the flavors of Northern Spain. They ate, they took photographs and they even physically sketched out how they wanted each of their pinchos—or pintxos in Basque—to look.
"Our dishes are named after our favorite places in Donostia," said Mr. de Yarza. "We import great products and it makes us look good while they do all of the work," he joked.
This part of Spain is all about seafood, and specifically pulpo—octopus. Sure enough, their tapas trail sampling boasts a mouthful of the freshest pulpo I've had since I was in Santiago de Compostela. It came served con pimentón with a foundation of bread and aioli, paired with a glass of txakoli ametza, a true Basque white wine.
So stop reading, and start eating: Your tapas trail awaits you.